Dick Tomey '60 Tackles New Challenge as Head Football Coach at San Jose State
August 18, 2005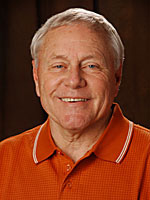 August 18, 2005, Greencastle, Ind. - In the world of Dick Tomey, head football coach at San Jose State University and 1960 graduate of DePauw University, "the limits imposed by yardsticks, scales and stopwatches don't apply," notes a lengthy profile in today's San Francisco Chronicle. "Tedy Bruschi was too short to play on the defensive line. Same with Rob Waldrop. Jeff Hammerschmidt was too slow. Marcus Bell was too small to be a linebacker, and Brandon Sanders and Darryll Lewis were simply too small. Tomey, then the coach at Arizona, was one of the few coaches who recruited them, and all became All-Pac-10 defensive players."
Jake Curtis writes, "Tomey relies on his eyes and his gut to pick players others passed over or to put them at positions others would not consider." The story notes Tomey's DePauw degree and that he played catcher on the Tiger baseball team. "Tomey coaches from the inside out, 'getting under the skin' he calls it, and his nurturing style will be tested at San Jose State. The Spartans have gone 14 seasons without a bowl-game appearance, don't seem to have the means to acquire the talent to make it happen and finished

last in the nation in attendance. A year ago, a faculty group wanted the school to drop football."
Tomey, whose résumé includes head coaching stints at Hawaii and Arizona, explains, "You're concerned about what somebody has inside. The Tedy Bruschis of this world are not hard to find, if you understand what you're looking at. I don't consider myself any kind of super evaluator; I just think you need to know what you're looking for, and not just follow what all the gurus say, because the gurus are wrong a bunch."
Read the entire story at the Chronicle's Web site.
Back