DePauw's Freshman Retention Rate Among Nation's Best
September 22, 2005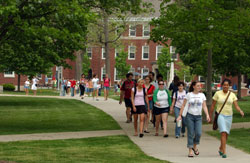 September 22, 2005, Greencastle, Ind. - DePauw's first-to-second-year retention rate climbed to 92.4% for the students who are now sophomores, and the graduation rate for the Class of 2005 climbed to 77.7% -- the second-highest level in twenty years. The retention rate climbed almost two-and-a-half percentage points from the year before and ranks among the highest in the nation.
"It is a clear measure of student satisfaction and is directly related to persistence to graduation, a measure of institutional effectiveness," James Lincoln, vice president for student services, tells The DePauw.
Neal B. Abraham, executive vice president of DePauw and dean of the faculty, credits the University's freshman mentoring program, depauw.year1, for the improvement. The program
was initiated in the Fall of 1999 after the retention rate had slipped to 84.7% the previous academic year. Depauw.year1 includes first-year seminars, a mentor program, improved orientation, and deferring of Greek rush/affiliation activities from fall to spring of the first semester.
Dr. Abraham notes that DePauw's retention rate is now the third-best among peer institutions; only Carleton (97%) and Kenyon (93%) are higher. DePauw's rate has hovered around 91% in the six years since depauw.year1 was implemented. "We are confident that continuing the strong features of the depauw.year1 program will lead to continued success," he says. "This retention rate is one of the highest for Midwest liberal arts colleges, so we are very pleased with this result."
The 77.7% four-year graduation rate in 2005 was virtually the same as the 2004 rate (78.4%). Both percentages represent a marked improvement from 1990 (70.1%). The most recent five-year graduation rate available, for the Class of 2004,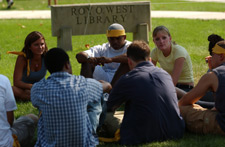 was 80.5%, the highest in two decades.
The dean also notes that the retention of the current senior class (to 85.7% of the original class returning for the senior year, and 98.1% of juniors returning for their senior year) is the highest in 20 years and higher by 2.6% than the previous best year.
"Anything we can do to help students become more engaged and connected and also to provide greater support is certainly going to encourage students to return and remain a part of the DePauw community," Chris Niles, director of first-year programs at DePauw, says of depauw.year1.
Learn more by clicking here.
Back