Mikhail Gorbachev's 10/27 Ubben Lecture, 'Security and Environment: The Challenges of the 21st Century,' Moved to Lilly Center
September 29, 2005
Also: More on President Gorbachev's DePauw Visit
September 29, 2005, Greencastle, Ind. - Mikhail Gorbachev's October 27 Timothy and Sharon Ubben Lecture at DePauw University will take place in the Lilly Center, 702 South College Avenue (directions and parking information), to accommodate what is expected to be a very large crowd. The former leader of the Soviet Union and Nobel Peace Prize laureate will speak on "Security and Environment: The Challenges of the 21st Century" at 4 p.m. As with all Ubben Lectures, Gorbachev's address is free and open to the public (see complete list of past Ubben Lecturers by clicking here).
"We're literally receiving phone calls from the around the nation from people who are interested in attending Mr. Gorbachev's speech, and his representatives tell me it is not unusual for 5,000 or more people to attend his events," says Ken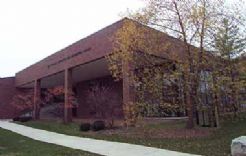 Owen '82, director of media relations at DePauw and coordinator of the Ubben Lecture Series. "Given that Kresge Auditorium [the original venue] has approximately 1,400 seats it seems prudent that we move the lecture to a much bigger venue that will meet the demands of the larger audience we're now anticipating."
Gorbachev is writing a new speech for his DePauw appearance, one that will address the fragility of our world -- as demonstrated by the recent hurricanes -- and the new challenges we face from terrorism.
Read more about Mikhail Gorbachev in this previous story, and visit his personal Web site here.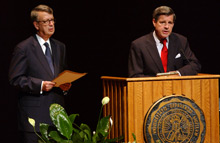 The Ubben Lecture Series has brought distinguished individuals to the DePauw University campus since 1986. Author and feminist Naomi Wolf spoke on September 21; other Ubben Lecturers have included former British Prime Ministers Margaret Thatcher and John Major, Spike Lee, Mike Krzyzewski, 2004 presidential candidate and retired General Wesley Clark, Ambassador Paul Bremer (seen at left), Hotel Rwanda's Paul Rusesabagina, National Football League Most Valuable Player Peyton Manning, David McCullough, General Colin Powell, and ice cream entrepreneurs Ben & Jerry.
To view a complete list of Ubben Lecturers, which includes links to video clips and news stories, click here.
Back