Major League Baseball Greats "Buzzie" Bavasi '38 and Ford Frick '15 Recalled in Article
September 30, 2005
September 30, 2005, Greencastle, Ind. - "Brooklyn Dodgers' tale has Indiana connections," which is published in today's edition of Indiana's
Kendallville News-Sun
, tells of two DePauw University graduates who were looming figures in major league baseball in the twentieth century. Bob Gagen's piece notes Ford C. Frick '15, who served as president of the National League, and later, as commissioner of baseball. "Emil J. 'Buzzie' Bavasi... worked in the Dodger front office from 1939 to 1968, retiring as the club's general manager. He grew up comfortably in the New York City suburbs and graduated from DePauw University (Frick's alma mater), where he was the school catcher for three years." Bavasi graduated from DePauw in 1938.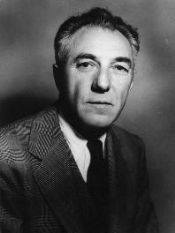 Ford Frick (seen at right) conceived the idea of the Baseball Hall of Fame and was himself inducted in 1970. Learn more at the Hall of Fame's Web site, and in this previous story.
"Buzzie" Bavasi (pictured below left), who earned the Bronze Star during World War II, served as executive vice president and general manager of the Brooklyn, and then Los Angeles, Dodgers professional baseball team from 1951 to 1968. He was president of the San Diego Padres from 1969 to 1977 and general manager of the California Angels from 1978 to 1984. His teams won two division titles, eight league championships and four World Series. Both men were inducted into DePauw University's Athletic Hall of Fame in 1989 (access Frick's biography here, and Bavasi's here).
Bavasi was interviewed in the December 12, 2004 edition of the San Diego Union-Tribune. He told the newspaper, "If Rickey and [Dodgers owner Walter] O'Malley had gotten along, I'd have won four more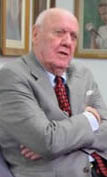 pennants (his teams won eight). When Rickey left the Dodgers for Pittsburgh, he promised he'd do anything he could to help me. So, when I asked him to let a player in one of the drafts slide down to me, he reluctantly agreed. But, after O'Malley ripped into Rickey at an owners meeting, Branch changed his mind. Otherwise, I'd have had Roberto Clemente as my right fielder. "I thought our '52 team was the best one, and we'd have won in '51 if we'd had (outfielder) Andy Pafko all year. Bobby Thomson wouldn't have had a chance to hit the home run (that lifted the Giants past the Dodgers in a playoff). I remember it well. Oct. 3, my mother's birthday. 2:59 p.m."
In the same newspaper on May 11 of this year, Nick Canepa covered a roundtable discussion between Bavasi, Duke Snider, and two other baseball veterans. Of the 90-year-old Bavasi, Canepa wrote, "He's still the greatest storyteller I've run across, a man who seemingly hasn't forgotten one thing that has happened during his life."
Back