Article Recalls Civic Leader and Former DePauw President Tom Binford
October 2, 2005
October 2, 2005, Greencastle, Ind. - A beautification project in Indianapolis yesterday "took place on a boulevard named for a longtime civic leader who was famous for solving problems," reports today's
Indianapolis Star
. "Tom Binford, who died in 1999, served for 22 years as the chief steward of the Indianapolis 500. He served as chairman of the former Indiana National Bank when it needed help in a management crisis, and when DePauw University needed an acting president, Binford agreed to take the job. Also, when the Indiana Pacers basketball team was reorganized, Binford served as interim president and general manager."
Thomas Wyatt Binford led DePauw from 1975-76. A Princeton graduate, Binford was named acting president after William E. Kerstetter resigned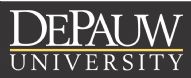 to become chancellor. Binford Boulevard runs from the near northside of Indianapolis to the far-northeast side of the city.
Access the Star article by clicking here. Learn more about Tom Binford and DePauw's other presidents here.
Back