Prosecutors May Be More Apt to "Lock Up" Reporters in Wake of CIA Leak Case, Veteran Journalist Adam Clymer Says
November 7, 2005
November 7, 2005, Greencastle, Ind. -

[Download Audio: "Impact" - 236kb] "I think the impact of the way this has turned out is to encourage prosecutors to try to send reporters to jail," veteran political journalist Adam Clymer told students and faculty members at DePauw University this afternoon. "Because Judy Miller, whose lawyers swore up and down that there was no reason to keep her in jail because she'd never talk, talked."
Clymer, chief Washington correspondent for the New York Times until his retirement in 2003, addressed the topic "Chasing Leaks and Jailing Reporters: The Case of Judy Miller and 'Scooter' Libby" in a conversation with Ken Bode, Eugene S. Pulliam Distinguished Visiting Professor of Journalism at DePauw. The event was presented by the Gertrude and G.D. Crain Jr. Lecture Series.
Judith Miller is the Washington-based writer for the New York Times who was jailed in July for contempt of court by refusing to testify before a federal grand jury investigating a leak naming Valerie Plame as a covert CIA agent. While
Miller did not write about Plame, she was reportedly in possession of evidence relevant to the leak investigation. After spending 85 days behind bars, Miller was released on September 29, 2005, after a telephone conversation with Lewis "Scooter" Libby, chief of staff to Vice President Dick Cheney. In the call, Libby reaffirmed a release of confidentiality. The next day Miller testified before a special grand jury investigating the leak; Libby has since been indicted.

[Download Audio: "Prosecutors' Lesson" - 113kb] "The lesson that prosecutors will draw from this is these reporters talk tough, but if you keep 'em locked up long enough, they'll squeal,"
Clymer told the audience that gathered in Watson Forum of the Pulliam Center for Contemporary Media.

[Download Audio: "A Profound Mistake" - 136kb] "It's a profound mistake for a reporter to go to jail, unless you're prepared to stay there -- which, maybe she thought she was, but she wasn't," added the author of Edward M. Kennedy: A Biography.
Adam Clymer began working at the Times in 1977, reporting extensively on politics, elections, and public opinion. Before joining the Times, Clymer worked at the Norfolk Virginian-Pilot, the Baltimore Sun and the New York Daily News. He says the Miller-Plame-Libby case is more embarrassing to the Times than the 2003 matter involving Jayson Blair, who faked quotes and even entire interviews and committed plagiarism in his pieces for the newspaper. "They put too much faith in her," Clymer said, adding he believes Miller's days at the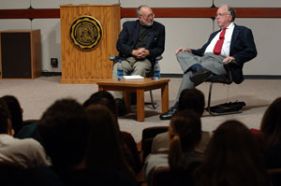 Times are numbered.

[Download Audio: "Miller's Future" - 176kb] 'She's on a leave at the moment. I think she'd be made to feel very unwelcome by her colleagues, and I think she's essentially negotiating a buyout."
Clymer says, in the wake of the Blair case, editors began to ask more questions about unnamed sources -- who they are and whether they have an ax to grind, among them. But he believes having a second person verify what an unidentified source tells a journalist, while ideal, is not crucial.

[Download Audio: "Second Sources" - 456kb] "I wrote a lot of stories about the House Ethics Committee investigation of Newt Gingrich, and I had one source for most of them. I trusted him and nothing he ever told me has been proved wrong, and everything he told me that could pan out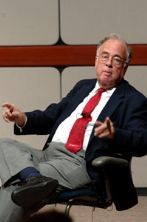 did pan out."
In the wake of the Miller case, there is talk of creating a federal shield law. Many states already have such laws, which spell out the circumstances under which a reporter can refuse to testify.

[Download Audio: "Shield Law" - 520kb] "I'm not quite sure that the one that the one that is being kicked around, that Judy Miller testified about, in fact would have protected her, because most of them have a sort of last resort exception; if you satisfy the judge that the testimony is important [and] that there's no other way to get the information... in fact, that's the Justice Department's stated policy," Clymer noted. "And [special prosecutor Patrick] Fitzgerald has complied with it."
Endowed by Rance Crain, president of Crain Communications
and a member of DePauw's Class of 1960, The Gertrude and G.D. Crain Jr. Lecture Series honors Mr. Crain's parents. Previous Crain Lecturers have included Samantha Power, author of A Problem from Hell: America and the Age of Genocide; Emily Wax, Africa Bureau Chief of the Washington Post, and her husband, Raymond Thibodeaux, who also covers the region for Cox News, Voice of America and the Boston Globe; Father Richard P. McBrien, Crowley-O'Brien Professor of Theology at the University of Notre Dame and a consultant to ABC News for papal events; political analyst Charlie Cook; FactCheck.org director Brooks Jackson; veteran political columnist Jack Germond; military sociologist Charles Moskos; historian Douglas Brinkley, author of Tour of Duty: John Kerry and the Vietnam War (seen at right); David A. Keene, chairman of the American Conservative Union; and Joe Trippi, who managed Howard Dean's presidential campaign.
Back