Wabash Reclaims Monon Bell in 17-14 Nail-Biter
November 12, 2005

[Download Video: "2005 Monon Memory" - 9931kb]; Order Your Monon Bell DVD Here
November 12, 2005, Greencastle, Ind. - It was billed in advance as a potential Monon Bell for the ages, and it lived up to the hype. A late DePauw drive fell short at Blackstock Stadium, and the Tigers lost to undefeated Wabash College 17-14 in front of a sellout crowd. The victory gives Wabash a perfect 10-0 record for the season, while DePauw falls to 7-2 as its seven game winning streak is halted and it loses its one-year hold on the coveted Monon Bell.
Wabash scored first on a 29-yard fiel
d goal by Chad Finley, but DePauw took the lead in the second quarter when Jeremiah Marks scored on 4th and goal from the one

[Download Video: "DePauw Takes a 7-3 Lead" - 2112kb]. The Tigers took a 7-3 lead into the locker room at halftime.
Wabash climbed back into the lead in the third quarter on another 4th and goal play, when Chris Ogden scored on a 5 yard run

[Download Video: "10-7 Wabash" - 5469kb]. It culminated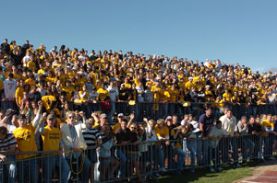 a 14 play, 71 yard scoring drive.
A 37-yard pass from Russ Harbaugh to Kyle Piazza in the fourth quarter made it 17-7 Wabash

[Download Video: "17-7 Wabash" - 3641kb].
But DePauw fought back, with Ross Wiethoff connecting with Chase Jonason on a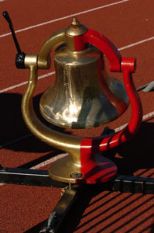 21-yard strike, making it a 17-14 game

[Download Video: "The Tigers Claw Back" - 4637kb]
The game came down to a 4th and 23 play with a minute to play from DePauw's 39 yard line. Tiger Quarterback Wiethoff's pass attempt to Jonason fell incomplete, sealing the outcome, and sending the Little Giants, who had already qualified for the NCAA Division III playoffs, home with the Monon Bell

[Download Video: "The Last Chance" - 8191kb].
Wabash wound up with 257 net yards to DePauw's 251. Wabash now leads the all-time series 52-51-9 with DePauw holding a 35-33-6 edge in games played for the coveted trophy.
The contest, nationally televised on DirecTV, was watched in homes around America and at alumni parties in 52 cities.
For comprehensive coverage, including statistics and a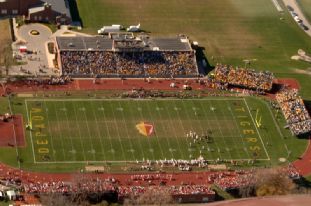 game summary, click here. Visit the Monon Bell Web site here.
An Associated Press summary of today's game can be found here, while an Indianapolis Star report can be accessed here. See the 2005 "Monon Memory" of the game here:

[Download Video: "2005 Monon Memory" - 9931kb]
A DVD of today's game, packed with extras including "Monon Memories" of battles for the bell dating back to 1940, is available for $12, and copies of the 2001, 2002, 2003 and 2004 remain in limited quantities. Access an online order form by clicking here.
Back