Fund for Athletics and Endowed Chair Created to Honor DePauw's Beloved 'Katman,' Ted Katula
November 12, 2005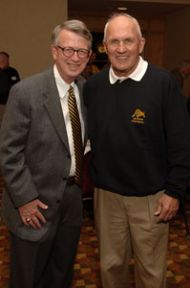 November 12, 2005, Greencastle, Ind. - DePauw University is establishing the Katula Fund for Athletics and naming its athletic directorship the Theodore M. Katula Director of Athletics, it was announced tonight at an event honoring "The Katman." Ted Katula served DePauw for nearly 40 years as a coach and administrator. Many DePauw alumni who played sports or worked at the Union Building under Katula were on hand to honor him at a special post-Monon Bell event at Walden Inn.
Recently, Ted and Linda (Martin '62) Katula informed the DePauw family that Ted is in the early stages of Alzheimer's disease.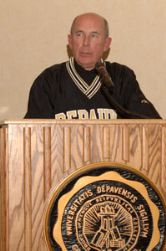 [Download Audio: "Dr. Phil Eskew on 'The Katman'" - 222kb] "This guy is really special to us and we think about the lessons that we learned all the time in the jobs that we have and how we go through life," Philip N. Eskew Jr., M.D. -- an obstetrician and gynecologist and director of physician and patient relations at St. Vincent Hospital in Indianapolis, and 1963 graduate of DePauw University -- told the gathering. Dr. Eskew played football under Coach Katula and remains one of his closest friends; he emceed tonight's festivities.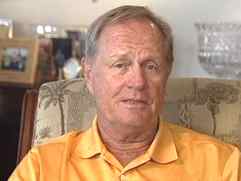 America's 44th Vice President Dan Quayle '69

[Download Video: "Greeting from Dan Quayle '69" - 4441kb] and NBC golf analyst Mark Rolfing '71

[Download Video: "Mark Rolfing '71 Says 'Hello'" - 3247kb], who played golf for Coach Katula, could not attend and sent video greetings, as did legendary golfer Jack Nicklaus

[Download Video: "Jack Nicklaus' Message for 'Katman'" - 3692kb], a longtime friend of Katula.
"A number of alumni asked if they could make gifts to DePauw in honor of 'Katman,'" Dr. Eskew told the alumni and friends who packed Walden Inn Social Center. "The Katula Fund becomes a permanent part of the Annual Fund, and is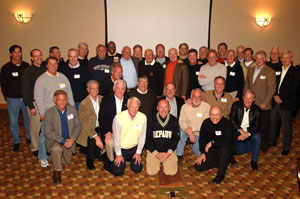 an opportunity for all alumni and friends to designate your contributions to support athletics at DePauw. Your gift of any size to the newly named Katula Fund for Athletics will help provide funding for DePauw student-athletes and coaches."
Eskew announced that the Katula Fund has received about $20,000 in early contributions. "All of you will be receiving information in the mail about the Katula Fund, and I hope you will add your support."

[Download Audio: "Another Major Announcement" - 466kb] "Ted,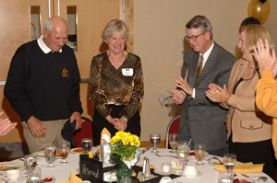 the fact that so many DePauw alumni care about you is no secret," President Robert G. Bottoms noted. "And all of us celebrate all of the achievements of our campus because it's also no secret that DePauw alumni are loyal to this institution. And every once in awhile there comes the opportunity where the loyalty to an individual and the loyalty to University come together, and we can do significant things."
Dr. Bottoms announced that Anthony J. de Nicola '86 and his family committed a gift of $500,000 to create an endowed chair, the Theodore M. Katula Director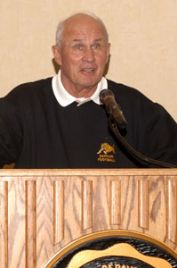 of Athletics. de Nicola -- a former DePauw quarterback and now general partner with Welsh,Carson,Anderson & Stowe -- stepped forward with his gift, and challenged others to make contributions.

[Download Audio: "More Than a Million" - 358kb] 'Tonight, I'm happy to announce that, because of the participation of so many people in this room, and people who could not be here -- Tony couldn't be here tonight with his family because of his commitment to his own family -- that DePauw alumni have raised $1,030,000," the president said to applause.

[Download Audio: "A Thanks from 'Katman'" - 476kb]"We had an alumnus and member of our Board of Trustees from Rochester, Indiana -- the great Ed Boswell," Katula recalled. "He used to come here with his helicopter, and if we weren't doing good he got in the helicopter and got out of town. (Laughter) Tonight we've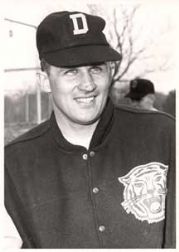 had a great time, but we're going to have a better time. And all I can say is what Ed Boswell said when he was inducted into the [DePauw Alumni Association] Athletic Hall of Fame. Thanks."
Ted Katula came from the steel town of Campbell, Ohio, near Youngstown. He was a four-sport standout and captain of the football, basketball, baseball and golf teams. He enrolled at Ohio State University, but was drafted into the Army and served two years as a paratrooper. After discharge, he returned to complete his college education and continued as a multi-sport athlete until a knee injury took him out of football. He then concentrated on golf, becoming captain of the 1957 and 1958 Ohio State golf teams. In 1959 "Katman" came to DePauw, and for the next 40 years wore several hats. In the '60s, he coached football, baseball, wrestling and golf. Those teams produced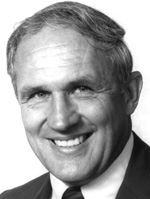 a legion of DePauw Hall of Famers, including golfers Randy Reifers '68, Dan Quayle '69 and Mark Rolfing '71. In 1967, while continuing as football defensive coordinator, Katula was named director of student activities. The Union Board became a campus power, and for the next 20 years Katula helped bring big-name entertainment and events to DePauw.
Katula left coaching in 1978 and moved into alumni relations. Then in 1987 he was appointed director of athletics and men's and women's golf coach. He led the men's team to five conference championships in 11 years and nine appearances in the NCAA championships. His women's team finished in the top four nationally for five straight years. He closed out his career in 1996 by helping to raise funds for athletic facilities. He
is married to the former Linda Martin '62, and they have four children. Over the years, while "Katman" the player, collected golf trophies and titles, "the old coach" collected a loyal following among DePauw students and alumni.
Coach Katula was interviewed during the national telecast of today's Monon Bell Classic. He called the Monon Bell

[Download Video: "Ted Katula on National Telecast" - 4684kb] "the greatest rivalry in the United States. I mean, I don't care what you look at -- whether it's Michigan-Ohio State, Georgia and Florida, whatever it is -- this game supercedes all those games."
E-mails and letters were shared with Ted Katula at tonight's event. Share your thoughts with Katman by clicking here.
Back