Bengals Mega-Fan Terry Dickey '92 in Today's Cincinnati Enquirer
November 17, 2005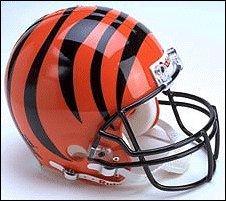 November 17, 2005, Greencastle, Ind. - "For fans such as Terry Dickey of Liberty Hill, it's not just what you wear to the game, but how you get there," notes a story in today's Cincinnati Enquirer. The article profiles fans of the National Football League's Bengals, including Dickey, a 1992 graduate of DePauw University who is seen in a photo accompanying the text.
"Dickey, director of business attraction and retention for the Cincinnati USA Regional Chamber, has decked out not one but two vehicles in Bengals orange and black," writes Mike Boyer. "He had an old SUV painted in Bengal stripes. But when that wasn't big enough to hold all the stuff for pre-game tailgating at Longworth Hall, he bought a beat-up 1988 Ford van, which he's tricked out inside with Bengals curtains. A life-long Bengals fan who played football at Moeller High School and DePauw University before a brief stint in the Canadian Football League, Dickey said his pre-game tailgates, complete with shrimp and ribeye steaks, draw anywhere from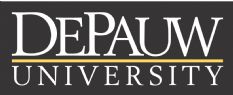 12 to 50 fans. 'We like to do it ugly,' said Dickey, who said his van doesn't hold a candle to some of the fancier custom Bengals vans and buses parked at the pre-game tailgates. 'It's important that we support the team by wearing orange and black now that we're winning again,' he said."
Access the complete article at the newspaper's Web site.
See Terry Dickey in action in the 1990 "Monon Memory" video, accessible here. He was also featured in a 1991 profile, which is embedded below.
Back