Profs. John Schlotterbeck and Anne Harris Receive Exemplary Teaching Award
December 9, 2005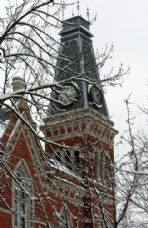 December 9, 2005, Greencastle, Ind. - John T. Schlotterbeck, professor of history, and Anne F. Harris, associate professor of art, are the 2005-06 recipients of the annual Exemplary Teaching Award. Given jointly by DePauw University and the General Board of Higher Education of the United Methodist Church, the Award recognizes faculty members who exemplify excellence in teaching, civility and concern for students and colleagues, commitment to value-centered education, and service to students, the institution and the community.
"I received over a dozen nominations from faculty colleagues this year, and I carefully studied both the nominations and the records of each of those nominated," notes Neal B. Abraham, DePauw's executive vice president, vice president for academic affairs, and dean of the faculty. "After careful review of this information, I selected the two recipients, who proudly represent DePauw's fine traditions of teaching and scholarship."
John Schlotterbeck arrived at DePauw in 1978. He was promoted through the ranks, including to professor in 1993, and served the department as chair for five years. He was previously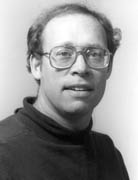 recognized by the University for sustained excellence in teaching and service as a recipient of the Distinguished Professor Award in 2003-2005. He is among the pioneers in the use of instructional technology at DePauw, and is now a leader in a group of faculty colleagues exploring Museum Studies for DePauw.
"John is impressive and humbling in his dedication to and his respect for his students," a colleague writes. "He challenges them, but also provides them with the tools of success. Moreover, he always looks for the whole person. I am often amazed how much John knows about his students, not only which team they play on, or their home towns, but their interests beyond the classroom, family relationships, etc... This genuine interest in them and in their success makes him a sought-after adviser and teacher for many of our majors." Another adds, "Equally impressive, John continues to develop fascinating new courses that simultaneously draw on his expertise and expand his horizons... In sum, [he] is a DePauw treasure."
Anne Harris came to DePauw in 1997. She has created new courses, such as, first-year seminars: "From the Holy Land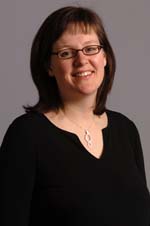 to Graceland: Studies in Pilgrimage" and "Stolen!: Art Theft and Western Culture," and medieval art history courses "Love and War in the Romanesque Era, 900-1200" and "Women and Medieval Art," among others. Her colleagues from other liberal arts colleges attest to the significance of her explanations of her pedagogical skills by their admiration for her contributions to recent meetings on the use of digital images in teaching. Currently she serves as the director of the Honor Scholar Program.
Professor Harris' students attest to the remarkable effectiveness she brings to their classes. She inspires them to learn and to challenge themselves. "More than any other teacher I have known, Anne combines a rigorous understanding of her subject with passion," attests one of her faculty colleagues. "She is certainly drawn by the beauty of art, but even more by a relentless curiosity to explore and understand. It is impossible to hear Anne discuss a painting or a sculpture without getting drawn into the desire to art as the gateway to a greater understanding of culture, history, religion, and philosophy. Her thinking is, on a theoretical level, rigorous and sophisticated, and yet she manage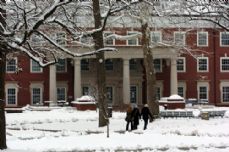 s to translate her thought process into a language that students can understand and be inspired by. On Winter Term trips and in the classroom she, more than any other colleague I have worked with, shows students the attraction of living the life of the mind."
Previous recipients of the Exemplary Teaching Award are Tom Chiarella, Andrea Sununu, Valarie Ziegler, Craig Paré, John Dittmer, Terri Bonebright, Carl Singer, David Field, Jackie Roberts, Tamara Beauboeuf and Bob Hershberger. "Together they provide inspiration to all of us as models of DePauw's enduring commitment to the pre-eminent importance of creative and effective teaching by its faculty members," Dr. Abraham says.
Back