Applications to DePauw Up 43% Year-Over-Year, Approaching All-Time Record
December 14, 2005
December 14, 2005, Greencastle, Ind. - Total applications for admission to DePauw University are running 43% ahead of last year's pace and are on track to set a new all-time record. "This accelerates a trend in recent years and underscores the fact that DePauw is a top choice of more of America's top young scholars," reports Stefanie Niles, dean of admission at the University. "It's only December and we've almost received as many applications as we did during the entire 2004-5 admission season, which ended in May. That speaks volumes about how increasingly attractive DePauw has become."
Through December 9, more than three-thousand six-hundred (3,650) applications had been received by DePauw, compared with 2,546 through December 10, 2004, a 43% year-over-year increase.
The University received an all-time high 4,115 applications in 2002-3. Twenty-six students have applied to transfer to the University, an 86% gain over 14 through the same period last year. The DePauw University School of Music has received 181 applications, compared with 149 a year ago. One-thousand-seven-hundred-fifty hopefuls have applied for early notification, a 39% increase over last year's 1,255.
"We sent our 'fast track' application to a larger audience than last year, but this still represents a tremendous increase," Niles says. "There are several other positive signs, such as the fact that our senior search response [students who are contacted by DePauw in their senior year and respond positively] doubled this year. We're on track for a very strong year, and I should note that the applications we're receiving suggest this will be another incoming class of students who are academically engaged and very commited to extracurricular activities and community service, which is very gratifying."
U.S. News & World Report has ranked DePauw in the nation's top tier of national liberal arts colleges for six consecutive years. The National Survey of Student Engagement finds that students at DePauw University enjoy significantly more academic challenges, interactions with faculty, collaborations with others and enriching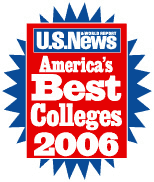 educational experiences than students at peer institutions and the national average at all colleges and universities. The Fiske Guide To Colleges 2006 ranks the University as one of 45 "best values," a designation Princeton Review also made in its 2006 edition of America's Best Value Colleges. Princeton Review also offers a very positive assessment of DePauw's academic programs in its 2006 guide to The Best 361 Colleges. The book's rankings place DePauw #1 in the nation for "major frat and sorority scene"; its student-run radio station, WGRE is rated the fourth-best college radio station in the U.S.A.; and DePauw is #15 for "more to do on campus".
Prospective students can learn more about the admission process and apply online by clicking here.
Back