U. of Virginia Taps Dave Borbely '81 as Offensive Line Coach
January 18, 2006

January 18, 2006, Greencastle, Ind. - Dave Borbely, a 1981 graduate of DePauw University, has been named an assistant football coach at the University of Virginia today, one day after the Richmond Times-Dispatch reported that he was the front-runner for the position. Borbely will coach the offensive line as he did at the University of Colorado the past four seasons. Borbely previously served as an assistant coach at Rice, Temple, Tulane, Stanford and Notre Dame.
"Dave brings a lot of experience not only as a coach, but as a recruiter from high-profile programs with very strong academic reputations," says Virginia head football coach Al Groh. "He knows the type of student-athlete we want to have on our team, who can also excel in a demanding academic setting. His background is similar to the type of offensive system we have in place and at the same time he has some fresh ideas that can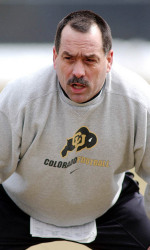 enhance our schemes. He will be a good addition to our staff."
An announcement by the university notes, "During Borbely's four years at Colorado the Buffs made three bowl appearances, and won the Big 12 Northern Division on three occasions... A native of Hammond, Ind., Borbely earned his bachelor of arts degree in history from DePauw (Indiana) University and a master of arts in secondary education from the University of Evansville in 1982. At DePauw, he earned four letters in football and twice was named the team's top lineman."
Read more by clicking here.
Back