Jane Boatman Geller '89 and Ron Stiver '96 Among Indianapolis Business Journal's '40 Under 40'
March 15, 2006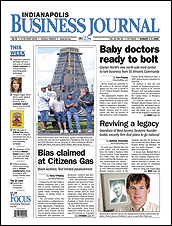 March 15, 2006, Greencastle, Ind. - Two alumni of DePauw University -- Jane Boatman Geller '89 and Ron Stiver '96 -- are among Indianapolis Business Journal's "40 Under 40" for 2006. Geller is president of Boatman Geller; Stiver is commissioner of the Indiana Department of Workforce Development. The two are among those listed in the publication's 14th annual listing of 40 of Central Indiana's rising stars under the age of 40.
"Jane Boatman Geller's years immediately following college read like a modern-day fairy tale," begins IBJ's profile. "After graduating from DePauw University with a degree in studio art, the Indianapolis native headed to New York, where she had no job but several friends. Her first job, obtained through a temp agency, was with Elizabeth Arden. She started in the mailroom and advanced to administrative assistant to the executive vice president-director of advertising worldwide. 'I loved it,' she said. 'I was only 22 and there were just so many opportunities.'
Geller eventually became assistant art director for Elizabeth Arden. Then she moved to Seattle to raise a family and did some freelance graphic design work, which she didn't find satisfying. "My whole family are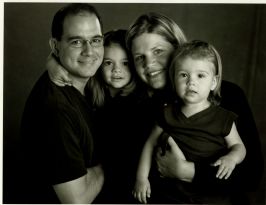 entrepreneurs," she tells the publication. "I grew up with a father who had his own business. That was my norm. I was always looking for different companies that I could have." (photo at right shows Jane Boatman Geller with husband Greg, and daughters, l-r, Isabelle and Anna)
After attending a lecture by stationery designer Candace Conway, in 2002 Geller decided to launch her own firm -- designing and selling stationery, cards and notepads -- from her home. "Since its inception the business has tripled its sales. First-year growth was a phenomenal 272 percent, and growth in subsequent years has been a steady 46 percent. The company's client base includes more than 1,100 retailers, including Neiman Marcus, and with only 15 full-time employees Geller has had to turn potential clients away to control growth," IBJ reports.
Geller notes that entrepreneurship "reminds me of parenting. It's a huge responsibility. I can't imagine a life without it, but it's never-ending."
"A first-generation college student with 'no master plan' other than to get a general education and pay off his college loans, (Ron) Stiver graduated summa cum laude from DePauw University with an economics degree and then earned an M.B.A. with honors from Duke University in 2001," the feature on the 1996 graduate points out.
The weekly publication describes how, shortly after taking his first job at Eli Lilly and Co., "Stiver struck up a conversation with a guy in the gym. As fortune would have it, that guy was Mitch Daniels, Lilly's senior vice president for corporate strategy. When Daniels ran for governor, Stiver volunteered to help in his campaign, and when Daniels won the office, Stiver took a leave of absence from Lilly to be part of the governor's transition team. Daniels asked him to join his team and Stiver accepted. 'I haven't regretted a day since,' he said. 'But there's been little time to come up for air.'"
In his role leading Indiana's Department of Workforce Development, Stiver "is responsible for creating the strategic plan that will guide Indiana's growth and retention of jobs and help increase citizens' personal income. He is also responsible for a $23 million Strategic Skills Initiative that seeks to identify and provide solutions for skill gaps in the state. In addition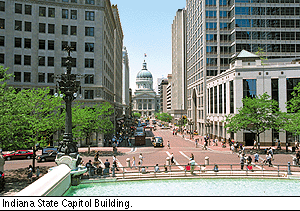 he is a member of the Governor's Education Roundtable. That's a pretty lofty agenda for this southside native who knew adversity at a young age. Stiver's mother raised him on her own after his father died when Stiver was just 12," IBJ notes.
Ron Stiver refers to himself as an "idealist without illusions," and asserts, "Reform is much more difficult in the public sector than it is in the private sector. You are going to have a lot more people second-guessing you. It's going to test your persistence and your commitment... If you care about something a great deal... you want to be in a position to impact it," he adds.
Access Indianapolis Business Journal online by clicking here (a subscription is required to view most articles).
Back