Prof. Carrie Klaus '93 Edits and Translates New Edition of The Short Chronicle: A Poor Clare's Account of the Reformation of Geneva
April 15, 2006
April 15, 2006, Greencastle, Ind. - A new edition of Jeanne de Jussie's The Short Chronicle: A Poor Clare's Account of the Reformation of Geneva, edited and translated by Carrie F. Klaus, assistant professor of modern languages (French) at DePauw and 1993 graduate of the University, has just been published by the University of Chicago Press. Randolph Petilos, medieval studies and poetry editor for the publisher, calls the volume "a very welcome addition to Chicago's list, and we are proud to have published it."
A synopsis of the book states, "Jeanne de Jussie (1503–61) experienced the Protestant Reformation from within the walls of the Convent of Saint Clare in Geneva. In her impassioned and engaging Short Chronicle, she offers a singular account of the Reformation, reporting not only on the larger clashes between Protestants and Catholics but also on events in her convent -- devious city councilmen who lied to trusting nuns, lecherous soldiers who tried to kiss them, and iconoclastic intruders who smashed statues and burned paintings. Throughout her tale, Jussie highlights women's roles on both sides of the conflict, from the Reformed women who came to her convent in an attempt to convert the nuns to the Catholic women who ransacked the shop of a Reformed apothecary. Above all, she stresses the Poor Clares' faithfulness and the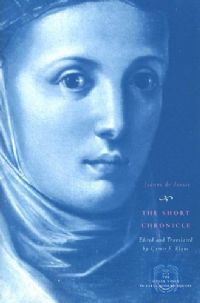 good men and women who came to them in their time of need, ending her story with the nuns' arduous journey by foot from Reformed Geneva to Catholic Annecy. First published in French in 1611, Jussie's Short Chronicle is translated here for an English-speaking audience for the first time, providing a fresh perspective on struggles for religious and political power in sixteenth-century Geneva and a rare glimpse at early modern monastic life."
Dr. Petilos notes: "This is an important book for understanding women's roles on both sides of the conflict between Protestants and Catholics in war-torn Geneva. Students and scholars of several stripes will find this a useful tool in deciphering sixteenth-century Europe as it emerged into modernity, and I think non-academic readers wanting to know more about the development of religion in Europe more generally may find it of interest."
Read more about The Short Chronicle at the publisher's Web site.
Back