Senior Stuart Schussler Will Study Colombian Refugees with Fulbright Award
April 19, 2006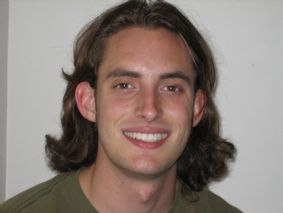 April 19, 2006, Greencastle, Ind. - DePauw senior Stuart E. Schussler will spend a year in Quito, Ecuador analyzing the plight of Colombian refugees as a result of receiving an international graduate study and research grant through the 2006-07 Fulbright U.S. Student Program competition. Fulbright student grants aim to increase mutual understanding among nations through educational and cultural exchange while serving as a catalyst for long-term leadership development.
Schussler, an Honor Scholar, is the second DePauw student to receive a Fulbright Award this spring. Senior Christina E. Guzik will spend a year in Argentina studying and conducting research on the relationship between the U.S.-led War on Terror and regional security in South America's Southern Cone.
"Democratization and migration are issues central to social

and political growth in Ecuador," Schussler wrote in his Fulbright application. A conflict studies and Spanish major and a National Merit Scholar, he plans to live in Quito "and study how Columbian refugees highlight these issues in their search for a more equitable society. Refugees fall into the gray area between national and international citizenships, and their struggle to become effective international citizens can teach us about new ways of conceiving a global, non-state citizenship."
Stuart Schussler already has first hand experience with the issue. He spent a semester studying at the School for International Training's culture and development program. After receiving a Frank W. Howes Summer Grant for Independent Study, he worked as an international human rights observer in Cotacachi, Ecuador and assisted the Center for Human Rights Documentation in its efforts to document the demographics and migration patterns of Colombian refugees in Ecuador.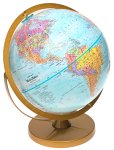 The senior also spent two months in Valencia, Spain as part of an honors program in foreign language, and has traveled to Tlapa, Mexico and Cotacachi, Ecuador as part of solidarity delegations.
In addition, Schussler has made presentations on peace and justice issues in Chicago and at Valparaiso University, and spent the summer of 2004 tutoring migrant farm workers under the auspices of the Indiana Department of Education. He has written several articles that have been published, one of which you can read about here. Schussler recently defended his Honor Scholar thesis, which critiqued the controversial initiative known as Plan Colombia.
The estimated 300,000 Colombian refugees have "a marginal status in a state weakened by institutional illegitimacy and neoliberal reforms," Schussler writes. "While they are affected by the shortcomings of the state but have little power to affect change, refugees' fight for a global, non-state citizenship provides a prelude to the fundamental changes that must be made for positive globalization. This marginalized group provides a model of the type of effective democratic engagement that would benefit all of Ecuador."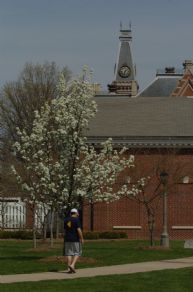 Schussler's work will take place as he pursues a masters degree in international relations at the Latin American Faculty of Social Sciences. "After graduating, I hope to continue promoting international solidarity through human rights work and cultural exchange," he states. "A Fulbright Fellowship will allow me to further promote the international collaboration that is crucial in today's globalized world."
"Stuart is an unusually mature student who instinctually draws the connection between academic study and social action," states David Gellman, associate professor of history and Fulbright Program Adviser, who taught Schussler in an Honor Scholars sophomore seminar. "Stuart is capable of thinking about sophisticated philosophical concepts while seeking opportunities to apply theoretical concerns with the way real people live their lives. His project is very much in that mold. His project intersects with so many of the issues that we face in the twenty-first century -- connecting the issues of migration, citizenship, and the human impact of violent political conflict.
Dr. Gellman (seen in photo at left) continues, "Stuart already has a deep knowledge of Ecuador and the issues facing the Andean region. Through this grant, he will not only be able to study, but also to talk and

work directly with the Colombian migrants whose experiences he wishes to document. He prepared meticulously to put together an impressive application. It speaks volumes about the Fulbright program that someone willing to investigate such challenging and, for some in power, uncomfortable issue has received this award, and it speaks volumes about Stuart and his DePauw education that Stuart launched such a worthy, ambitious proposal."
Glen D. Kuecker, associate professor of history at DePauw, adds, "Stuart is
an exceptional student who has the abilities to fully leverage non-traditional methods of self-directed, praxis driven learning that are underutilized by higher education. His knowledge about Ecuador and the topic of migration, citizenship, and resistance were almost entirely learned outside the confines of the DePauw classroom. His work stands as a bright example of what is possible if we creatively approach learning, and what will be necessary if the world is to navigate the serious problems it now faces."
"Stuart is a thinker who found a way to put his intellectual curiosity into action," says Anne

F. Harris, associate professor of art and director of the Honor Scholar Program, who has taught Schussler. "His negotiation of the theoretical work of the classroom with the praxis of the world beyond college is inspiring for his peers and professors alike. I always admired the way that Stuart was interested in the ideas, the theories, and the principles behind what at first glance seemed inevitable or too-complex situations. The scenarios and lives that Stuart will be working to understand have all-too-readily been dismissed as too complicated or involved. I have full confidence that Stuart will translate the complex reality of the Ecuadorian situation into concrete, life-changing policy that will broaden our understanding of 'international citizens.'"
The Institute of International Education (IIE), in cooperation with the U.S. Department of State and the J. William Fulbright Foreign Scholarship Board, administers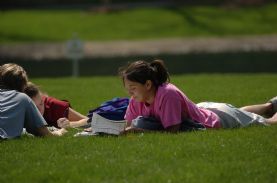 the Fulbright competition, which has provided future American leaders with an unparalleled opportunity to study, conduct research and teach in other nations for six decades.
The U.S. Student Program awards approximately 1,000 grants annually and currently operates in over 140 countries worldwide. Fulbright full grants generally provide funding for round-trip travel, maintenance for one academic year, health and accident insurance and full or partial tuition. Since its inception in 1946, the Fulbright Program has provided more than 257,000 participants worldwide with the opportunity to observe each others' political, economic and cultural institutions, exchange ideas and embark on joint ventures of importance to the general welfare of the world's inhabitants. Learn more by clicking here.
Back