Metanexus Institute Founder Will Examine '10 Reasons for Constructive Engagement of Science and Religion' Tuesday
April 16, 2006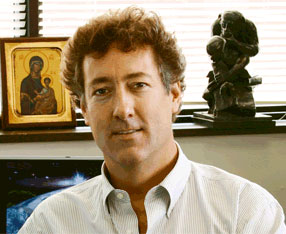 April 16, 2006, Greencastle, Ind. - William Grassie, founder and executive director of the Metanexus Institute on Religion and Science, will come to the DePauw University campus on Tuesday, April 18, to discuss "Ten Reasons for Constructive Engagement of Science and Religion." The 4 p.m. lecture in room 123 of the Olin Biological Sciences Building, which is free and open to all, is the inaugural event of The Commons Project. A program of DePauw's Office of Spiritual Life, The Commons Project provides a forum for dialogue about the relationship of science and religion, and will be sponsoring a series of lectures, discussions, and other programs over the coming year.
Why should one care about the constructive engagement of science and religion? How is this dialogue relevant to the future of civilization? Dr. Grassie will explore these questions and others in his DePauw address.
The Metanexus Institute currently runs some 300 projects at universities in 37 countries.
William Grassie also serves as executive editor of the Institute's online magazine and discussion forum. He has taught in a variety of positions at Temple University, Swarthmore College, and the University of Pennsylvania. Grassie received his doctorate in religion from Temple University in 1994 and his bachelor degree from Middlebury College in 1979. Prior to graduate school, Grassie worked for ten years in religiously-based social service and advocacy organizations in Washington, D.C; Jerusalem, Israel-Palestine; Berlin, Germany; and Philadelphia. He is the recipient of a number of academic awards and grants from the American Friends Service Committee, the Roothbert Fellowship, and the John Templeton Foundation. He is a member of the Religious Society of Friends (Quakers).
Read more by clicking here. Visit DePauw's Office of Spiritual Life here.
Back