Bret Baier '92 Now Chief White House Correspondent at FOX News Channel
May 15, 2006

May 15, 2006, Greencastle, Ind. - "FOX News Channel is shuffling the deck at its Washington, D.C., bureau, upping Bret Baier to chief White House correspondent," notes Mediaweek. Baier, a 1992 graduate of DePauw University, had been serving as national security correspondent for the news network. Baier has been reporting for FOX since 1998.
In December 2003, Bret Baier was the only television reporter to travel with Chairman of the Joint Chiefs of Staff Gen. Myers on the general's first trip to Iraq since the capture of Saddam Hussein. Baier has also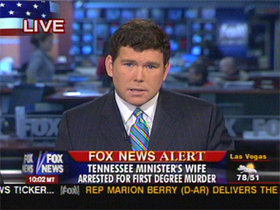 provided up-to-the-minute news coverage of the war in Iraq from the Pentagon, and was the first television correspondent to report numerous breaking news stories. Baier reported on the Sept. 11, 2001 terrorist attacks against the United States and on the U.S. military mission from Haiti, as well as the 1999 conflict in Kosovo. He graduated from DePauw with a degree in English composition.
Access the item in Mediaweek by clicking here.
Back