Prof. Henning Schneider's Research in Journal of Comparative Neurology
July 7, 2006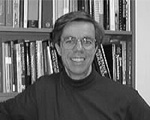 July 7, 2006, Greencastle, Ind. - Research by Henning Schneider, associate professor of biology at DePauw University, is published in the Journal of Comparative Neurology. "Innervation of dorsal and caudal fin muscles in adult zebrafish Danio rerio," by Dr. Schneider and Beth Sulner, is published in the current issue (August 10, 2006; Volume 497, Issue 5) of the publication. Their work was funded by DePauw, William Paterson University of New Jersey, and the National Science Foundation.
"The organization of the neuromuscular system of the dorsal and caudal fin
of zebrafish, Danio rerio, was studied, including the anatomy of fin motoneurons as revealed by neurobiotin backfills and differential staining using fluorescent markers," begins an abstract of the article. "As shown by differential staining using fluorescent-labeled dextrans, cell bodies of dorsal fin motoneurons and axial motoneurons seem to be located in separate motor columns."
Professor Schneider states, "The zebrafish is emerging as an importantmodel system for biomedical research, research on environmental and genetic determinants of development and physiology, and research
on comparative genomics and proteomics/evolution. The characterization of the innervation of fins provides information for future work on molecular mechanisms of movement disorders and regeneration of the nervous system."
Read more by clicking here. More information about zebrafish research can be found here, and you can learn more about Henning Schneider at his Web site.
Back