Barbara Kingsolver '77 Contributes Essay to My Father Married Your Mother
July 12, 2006
July 12, 2006, Greencastle, Ind. - Barbara Kingsolver, bestselling author and 1977 graduate of DePauw University, contributes an essay to My Father Married Your Mother: Writers Talk About Stepparents, Stepchildren, and Everyone In Between. Edited by Anne Burt and published by W.W. Norton and Co., the book's "26 essays look at divorce, remarriage, second divorces and complicated family relationships through the eyes of stepparents and children of divorce. Some have seen their parents move on and, in some ways, move away from them," notes a story in the Star-Ledger of Newark, New Jersey.
"The notion of a Leave It to Beaver family, if one ever really existed, is a thing of the past," notes a review in Library Journal. "In reality, the very definition of the word family is in a constant state of flux. The divorce rate in the United States hovers at around 50 percent, remarriages abound, and stepparents and stepsiblings are common. This anthology... is an enticing look at blended families from the perspectives of 27 writers, including Jacquelyn Mitchard, Steve Romagnoli, Susan Cheever, Andrew Solomon,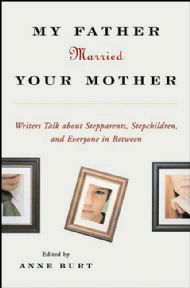 and Barbara Kingsolver, each of whom has experienced some version of blended family life. Kingsolver muses on how her divorce changed her ideals of what a family ought to be."
"Burt said the inspiration for the book came from her search for books by people who had been through the experience," writes the Star-Ledger's Peggy O'Crowley. Burt states, "Think about the archetypes we still have: Cinderella and Carol Brady."
Read the newspaper story by clicking here. Learn more about My Father Married Your Mother at Amazon.com and Barnes & Noble.com.
Barbara Kingsolver's books include the Pulitzer Prize-nominated The Poisonwood Bible, Prodigal Summer, The Bean Trees, Small Wonder and Last Stand: America's Virgin Lands, a collaboration with National Geographic photographer Annie Griffiths Belt. She also contributed an essay to Farm Aid: A Song for America.
Back