Rev. Larry Burton is US Senate's Guest Chaplain
July 13, 2006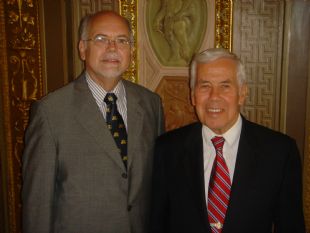 July 13, 2006, Greencastle, Ind. - Reverend Larry Burton, who retired as chaplain of DePauw University and senior minister of Gobin Memorial United Methodist Church at the end of June, was guest chaplain for today's session of the United States Senate. Rev. Burton led the Senate in prayer at 9 a.m., which was televised live via C-SPAN2 and will be included in the Congressional Record. Burton's wife, Mary Kay, son Anthony, and daughter-in-law Marianne Fairbanks, observed the prayer from the third-floor members' gallery of the Senate chamber. (photo at left shows, l-r: Rev. Larry Burton, Sen. Richard Lugar)
Today's event concluded a year-long planning process. Lugar wrote to Senate Chaplain Barry C. Black in June 2005 to recommend Larry Burton as guest chaplain. Each month, on the recommendation of senators, the Senate Chaplain invites two clergy members to pray in the Senate as guest chaplains.
As guests of Senator Richard Lugar (R-Indiana), the Burtons also visited with the senator and attended a Foreign Relations Committee hearing on Iraq chaired by Lugar. They also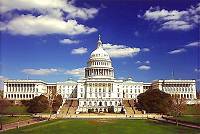 enjoyed a tour of the U.S. Capitol building with Lugar intern Brittany Graves, a DePauw senior who is majoring in conflict studies.
The text of Rev. Burton's prayer follows:
"Let us pray, "O Thou great Creator, God of all the nations: We bow before you knowing that these gathered here today have the power to choose right over wrong, good over evil. Bless each one of them that they might choose according to Your will. Open their ears so that they may truly listen to one another. Open their eyes so that they may truly see the path of righteousness. Open their mouths that they may speak truly with the deepest integrity. Open their hearts and minds that they may discern the way that leads to the common good. O Spirit of Power, grant that the only ambition in this Chamber may be the desire to achieve peace and prosperity for all Americans. Grant that the only competition may be the struggle for justice. O Thou great Creator, God of all the nations, lead this great nation as a pillar of cloud by day and a pillar of fire by night, until the day comes when all nations shall dwell together in peace and concord. Amen."
Learn more about Rev. Larry Burton, former president of the Association of Professional Chaplains -- the largest inter-faith certifying organization in the country -- in this previous story.
Back