Happy Talk News Culture Laps Up "Great Consonant Caper," Observes Prof. Ken Bode
July 28, 2006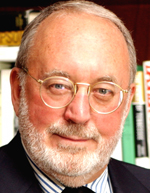 July 28, 2006, Greencastle, Ind. - "My town of Greencastle made international news this week for a teenage crime spree that newspapers, radio, television and Web sites found irresistible," begins this week's Indianapolis Star column by Ken Bode. "Some kids stole the letter 'R' from the signs of a couple dozen Greencastle businesses," explains DePauw University's Eugene S. Pulliam Distinguished Visiting Professor of Journalism. "News of the missing 'R's' was featured in the Star and on National Public Radio and the Canadian and British Broadcasting systems. Adam Coates, the Banner-Graphic reporter who broke the story locally, found himself being interviewed on a talk show from England."
Bode describes how the "Great Consonant Caper," as he calls it, unfolded, and how the missing letters were traced to two teens who admitted to the prank. "All of this has folks in Greencastle scratching their heads. Why? Isn't it a little over the top that something this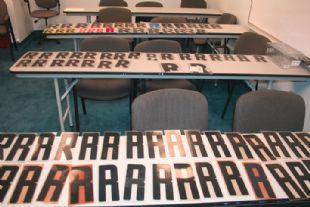 inconsequential should become such big news? Probably there are two reasons. First, the worldwide explosion of media: cable TV, radio talk shows and Internet blogs, all with an insatiable appetite for the inconsequential. The second reason comes with a clue from the NPR reporter who told Randall Jones [of Greencastle's Headley Hardware, who first noticed the missing letters] there is always an appetite for 'feel-good stories.' People say there is too much bad news in the media, thus we get the incessant happy-talk television chatter known so well to all. Find a story about a baby or a puppy or an off-the-wall teenage crime caper and it's news everywhere." (photo of recovered letters, above right, by Adam Coates of the Banner-Graphic)
Now that the mystery has been solved, Bode concludes, "What we have here is the perfect copycat crime, easy to replicate. With all the international publicity, don't be surprised

if the 'Ls' begin disappearing in Liverpool or the 'Cs' in Caracas. That's if the culprits stick only to consonants."
Read the entire text at College News.org.
Last Friday, Ken Bode -- former CNN senior political analyst -- recommended two museums that "bring American history indoors and under one roof." You'll find details in this previous story.
Source: Indianapolis Star
Back