Professor Emeritus Fred Nelson Passes Away
August 18, 2006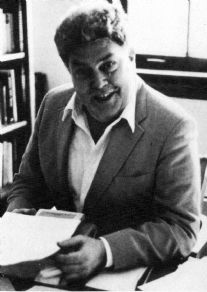 August 18, 2006, Greencastle, Ind. - Fred N. Nelson, associate professor emeritus of English at DePauw University, passed away today at an Indianapolis hospital. Nelson, 74, who taught at DePauw from 1961 to 1999, died of respiratory failure. He had been living in Greencastle since his retirement from the University. Services will take place Saturday, August 26 at Webb Funeral Home in Preston, Idaho.
Born in Pocatello, Idaho, on June 23, 1932, Fred Norman Nelson graduated from the Pasadena Playhouse College of Theatre Arts in 1954 with a bachelor of theatre arts degree, and a year later earned a B.A. from Idaho State University. In 1961, he received an M.F.A. from the Yale University School of Drama.
From 1955-6, Nelson taught speech and drama at Preston High School in Idaho, and from 1957-8 taught high school studentsin his hometown of Pocatello. He joined the DePauw University faculty in 1961 after earning his
master's degree at Yale. Courses he taught at the University over the years included: Advanced Expository Writing, Playwriting, The Drama, Shakespeare, and Seminar in Literature.
Nelson directed, performed or wrote more than 250 plays throughout his career, including The Love Play, which was written during a 1988 sabbatical. He presented a paper on Macbeth at Stratford on Avon, and another on "Acting Shakespeare's Plays" in Indianapolis. A play that Nelson wrote with Oliver Hailey, Hey You, Light Men, was published in 1961.
Over the course of his long career at DePauw, Fred Nelson was nominated "best professor" ten times and was the 1965 winner of the "Brown Derby Award" for most popular teacher. Other honors
include being 1975 first runner-up in the Utah Playwrighting Contest, and a 1954 "best director" award for the west coast premiere of T.S. Eliot's The Family Reunion.
DePauw President Robert G. Bottoms remembered Fred Nelson as "one of the most colorful members of our community" this morning. In his opening address to DePauw's faculty at Meharry Hall, Dr. Bottoms announced Nelson's passing, news "that saddens all of us." But the president drew smiles and laughter as he recalled inviting Professor Nelson to his home for a retirement dinner that would only include Bottoms, his wife Gwen, and Nelson.
[Download Video: "President Bottoms Remembers Fred Nelson" - 1618kb] "He said, 'Well, I think I'd like to have tuna fish. So we had Fred over for tuna fish, and when he arrived at the door -- Fred always had props -- he had purchased a new suitcase for the event and said, 'I'm here to stay.'"
Back