DePauw-Led CTEP Brings Community Computer Lab to Cloverdale
August 23, 2006
August 23, 2006, Greencastle, Ind. - Chalk up another assist to the people of Putnam County for DePauw University's Community Technology Enhancement Program (CTEP). A new computer lab in Cloverdale -- the Knoy Resource Center -- is now open to students at Cloverdale High School and will be accessible to the general public September 8, and CTEP has lent a key assist. One of DePauw's 361° technology initiatives, CTEP collects used computers from the university, local schools, and the community to be refurbished and donated to low-income families and nonprofit organizations. To date, hundreds of computers have been recycled through the program.
DePauw's CTEP provided the new center with two Apple Macintosh workstations and will be conducting workshops for approximately 15 Twenty-first Century scholars who will receive a CTEP computer at the end of their training along with a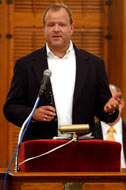 certificate of completion.
"This is a great example of neighbors helping neighbors," says Bob Hershberger, professor and chairman of modern languages at DePauw and CTEP's faculty adviser (seen at right). "We've seen first-hand the life-changing experiences that people have had locally after being given a computer, a 'window to the world,' if you will."
Located at the rear of Cloverdale High School, the Knoy Resource Center was created to inspire both success and a sense of community in students. The center was named in honor of the Knoy family, most notably Adeline Knoy, who taught for twenty-six years in the Cloverdale School System.
Beyond being a resource for citizens in need of computers and Internet access, "The goals of the Knoy Resource Center include enrolling all eligible 7th and 8th grade students in the 21st Century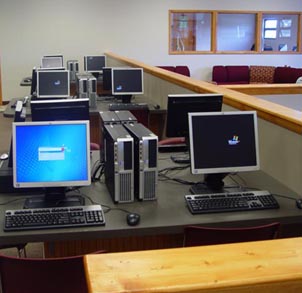 Scholar program, and to increase standardized test scores," states Eric Wolfe of the Putnam County Community Foundation. "We also want to engage parents and other significant adults in students' lives and increase the number of people in Putnam County who graduate from high school, complete post-high school education and [ultimately] succeed in the workforce," adds Wolfe, a 2004 graduate of DePauw.
Toni Tomlinson, the director of the Knoy Resource Center, was very appreciative and enthusiastic about university involvement. "CTEP is the partner of our dreams, says Tomlinson. "The faculty and students of DePauw, through CTEP, have embraced our project with great enthusiasm; sharing ideas, knowledge and manpower."
CTEP, which has been in operation since 2003, was set up to "bridge the digital divide" by refurbishing older computers and supplying them to those who cannot afford the technology. To date, CTEP has supplied approximately 400 computers to individuals, not-for-profit businesses, organizations, and community centers. Other support for the new center in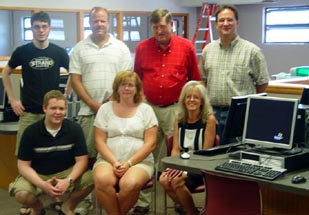 Cloverdale comes from the Putnam County Community Foundation, 4Community, and Rob Lyon. (photo at right, l-r, Jake Osborn, DePauw sophomore and CTEP associate; Nathan Day, DePauw senior and CTEP student adviser; Dr. Hershberger; Jennifer Mann; Al Tucker, Toni Tomlinson; and Howard Bowen)
CTEP will also use the Knoy Center as a hub for donations of used computers from the community. The program has also begun the process of collecting old, unused cell phones and printer cartridges, which they can then recycle for money to aid in their mission.
For more information, e-mail the program or call (765) 658-5920.
Back