DePauw Alumni and Friends Enjoy Evening Fit for a King
August 27, 2006
Visit King Tut Alumni Event Photo Gallery
August 27, 2006, Greencastle, Ind. - More than 185 DePauw alumni and friends from 17 states enjoyed an evening fit for a king at the University's first national, off-campus alumni event last night in Chicago. Alumni converged on the Field Museum for an exclusive viewing of the "Tutankhamun and the Golden Age of the Pharoahs" exhibition, a sumptuous King Tut-themed dinner by the renowned Levy Catering and an exquisite musical program provided by DePauw School of Music faculty members. Docents were on hand to respond to any questions alumni had about the exhibit.
"To be able to see the exhibit at an unhurried pace was undoubtedly the absolute best experience ever," Kimberly Reed '79 said. "My children and I were fortunate enough to tag along with one of the docents who told us stories of the discovery and excavations, details about pieces on display that we never would have known about.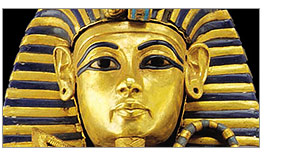 But to stand in the room practically alone with these pieces of history was amazing. My college-age daughters learned how a college is not just a place to earn a degree; it is a reference point for the rest of one's life, and it lives on past the date of graduation."
To spend special time with the fabulous King Tut exhibit, alumni ranging from the 1950s to 2006 graduates came from Arizona, California, Colorado, Florida, Georgia, Illinois, Indiana, Maryland, Michigan, Minnesota, Missouri, New Mexico, Oregon, Pennsylvania, Texas,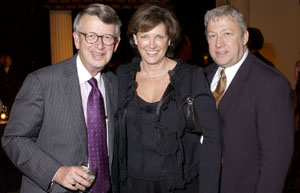 Virginia and Wisconsin.
"Everything from the fascinating exhibit, spectacular entertainment and best of all, the discussion with DePauw alumni in the relaxed atmosphere made the King Tut viewing an experience to remember. I appreciate having the opportunity to attend this national alumni event," a current student, Hilary Blake '08, stated.
"The enthusiastic group attending this evening tells us that this kind of alumni event is very appealing to our alumni, parents and friends," DePauw President Robert G. Bottoms told the attendees. "Events such as this are a great way through which alumni can have meaningful opportunities to stay connected with DePauw. We plan to hold similar events in the future,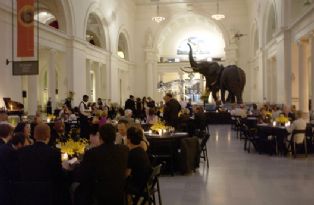 and I can share with you the news that the alumni relations office is already working with our School of Music to plan another very special event in Atlanta in March."
The efforts of many alumni contributed to the success of DePauw's first national, off-campus alumni event. President Bottoms said, "The University extends special thanks to Judson and Joyce (Taglauer '75) Green '74 [seen with the president in photo above left] for helping to make the event venue available to us. Judson, who is a member of DePauw's Board of Trustees, also serves on the Field Museum's Board of Trustees and helped to secure this wonderful museum for tonight. Fellow trustee, Marletta Darnall '61, a member of the Field Museum's Founders Council, lent a guiding
hand to the alumni relations office."
DePauw's director of alumni relations, Jennifer Clarkson Soster '88, noted, "The idea for the King Tut event was generated by the DePauw Alumni Association Board of Directors under the presidency of Jim Mullin '83. Members of the Chicago Regional Alumni Council played key roles in planning the event, including Amber Franklin LaRue '00 and Anne Plymate '03 along with Alumni Board members John Busey II '90 from Racine, Wis., and Tom Yeo '70 from Indianapolis."
DePauw School of Music faculty members Stanley Irwin, bass-baritone; Charles Manning, piano; Caroline Bradley Smith, mezzo soprano; and Keith Tonne, tenor, received rave reviews for their performance of a two-part musical program. To end the evening, DePauw Trustee Judson Green played A Toast to Old DePauw on a grand piano (seen above) brought
in especially for the event, and the music faculty members led the singing.
For those who attended, a post-event survey is available on the DePauw Alumni Relations homepage. Your feedback will help DePauw staff members plan for similar national, off-campus events in the future.
Learn more about the exhibition by clicking here, and view the Field Museum's photo gallery here.
Back