DePauw Talent On Display in Local Playhouse's To Kill A Mockingbird
September 7, 2006
September 7, 2006, Greencastle, Ind. - DePauw University is well represented in the Putnam County Playhouse production of To Kill a Mockingbird, which opens tonight. Chris Wurster, senior development officer and 1969 graduate of DePauw, stars as Atticus Finch, in a role made famous on film by Gregory Peck. Junior James Patton portrays Tom Robinson, the young man falsely accused of a crime; Gigi Fenlon, instructor of communication and theatre, brings the character of Jean Louise to life; while Jim Rambo, professor of modern languages, plays the judge. DePauw junior Timothy L. Fox is the play's assistant director.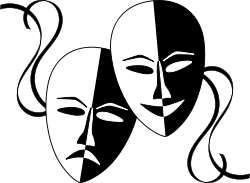 An article in the Banner-Graphic notes, "The set was designed by Larry Sutton [professor emeritus of communication] with lighting by Bryan Schroeder [assistant media technician at DePauw's Media & User Services]."
To Kill A Mockingbird will be staged tonight through Saturday, and again September 13-16. All performances will begin at 8 p.m. Tickets are $8 each. For more information, click here or call (765) 653-5880.
Back