Tigers Open 2006 Football Season with 25-13 Victory
September 9, 2006
Also: Comprehensive Game Summary and Statistics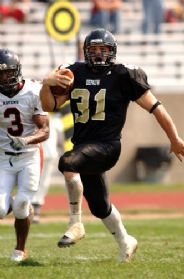 September 9, 2006, Greencastle, Ind. - It was a team effort by the DePauw University football squad, but Jeremiah Marks was a one-man wrecking crew this afternoon, as the Tigers battled to a 25-13 win over Anderson University. Marks, a junior running back, carried the ball 32 times for 200 yards -- a career high -- and accounted for two DePauw touchdowns. It was Community Day at Blackstock Stadium, and the opening game of DePauw's 119th football season. Anderson falls to 1-1 on the young campaign.
The Tigers got on the scoreboard with 6:17 remaining in the first quarter. An eight play, 80 yard drive was capped when Marks fumbled just before crossing into the end zone and the ball was recovered for a touchdown by DePauw's Brett Claxton.
On the first play of the second quarter, Anderson -- trying to punt from their own 5 yard line, snapped the ball over the head of the kicker, registering a safety and making the score 9-0.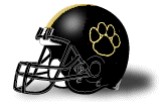 Anderson made it 9-7 in the third quarter, completing a nine yard touchdown pass on third and goal.
Brendan Smith's field goal from 36 yards out, with 4:55 left in the third quarter, brought DePauw's lead to 12-7.
Anderson climbed in front with 13:29 left in the game on a six play, 83 yard drive that culminated with a twenty yard Denny Kimmel touchdown run. The Ravens' two-point conversion attempt was unsuccessful.
With 3:59 left in the game, DePauw's Marks (pictured at left) scored a TD from four yards out. The Tigers went for two, and failed, making the score 18-13.
Then, with 1:02 left on the clock, Marks hit paydirt again, scoring from 26 yards out. He averaged 6.2 yards per carry on the day, and now has more than 2,000 yards rushing in his DePauw career.
Today's game marks the head coaching debut of Matt Walker, a 1999 graduate of DePauw and the first alumnus of the University in the last century to lead the football program.
For comprehensive coverage of today's game, read this summary, and visit the Tigers' online here. An Associated Press article can be found here.
DePauw returns to action next Saturday with a noon contest at Blackstock Stadium against Hope College.
Back