Sixteen Putnam County Students are Recipients of 2006 Prevo Scholarships
September 16, 2006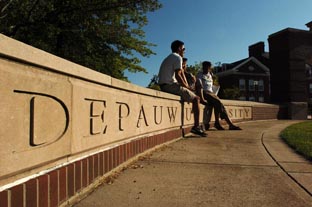 September 16, 2006, Greencastle, Ind. - As it enters its 30th year, a scholarship program established by a Greencastle citizen and DePauw University graduate continues to provide college opportunities for outstanding Putnam County scholars. Sixteen local students -- four each from North Putnam and Greencastle High Schools' Class of 2006 -- as well as eight returning DePauw University undergraduates -- are the recipients of 2006 Edgar A. Prevo Scholarships.
Established in 1977 by a bequest from Edgar A. Prevo, longtime Greencastle businessman and member of DePauw's Class of 1912 (seen in photo below), the scholarships are exclusively for outstanding graduates of Putnam County's high schools. Selection of Prevo Scholars is based upon a number of factors including high school academic achievement, academic potential for college, financial need, and SAT scores. Prevo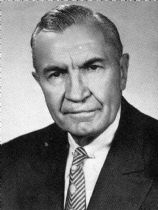 passed away in 1975.
The 2006 Prevo Scholars include:
Jonathan M. Barber, freshman, Greencastle H.S.
Katherine E. Colvin, freshman, North Putnam H.S.
Marissa A. Fenton, sophomore, North Putnam H.S.
Jamie A. Grivas, freshman, Greencastle H.S.
Michelle C. Hasler, junior, North Putnam H.S.
Alexandra N. Hirt, sophomore, Greencastle High School
Kyrian J. Marshall, freshman, Greencastle H.S.
Ryan P. Minor, junior, South Putnam H.S.
Jacob M. Osborn, sophomore, South Putnam H.S.
Miles B. Reed, freshman, North Putnam H.S.
Krista M. Rust, sophomore, North Putnam H.S.
John R. Sibbitt, junior, Greencastle H.S.
Katelyn R. Thompson, sophomore, North Putnam H.S.
Brittany A. Williamson, sophomore, North Putnam H.S.
"The
histories of DePauw and Greencastle are interconnected and date back nearly 170 years," says Richard Nash, director of financial aid. "Mr. Prevo's loyalty to DePauw and love for his community continue to provide opportunities for students who have excelled in their Putnam County high schools to avail themselves of the nationally-ranked programs of DePauw. We're proud to carry on Edgar Prevo's legacy and are thrilled that there are 16 Prevo Scholars on the DePauw campus this semester."
Prevo Scholarships may range in value up to full tuition for one year. The scholarship is also subject to renewal each year the recipient remains qualified for the award.
For more information about Prevo Scholarships or DePauw University, contact the Office of Admission at (765) 658-4006 or talk with your high school guidance counselor.
Back