Greek Fact-Finding Report is Issued
September 29, 2006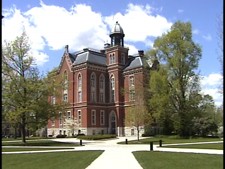 September 29, 2006, Greencastle, Ind. - President Robert G. Bottoms today made public the report from the Greek Fact-Finding Commission, which was delivered to him on Monday. The panel was created in April by a vote of DePauw's Board of Trustees to "identify an impartial set of facts about DePauw's Greek system in the context of the important functions it provides and the constituencies it serves," according to the commission's charge. "The objective is to gather the most reliable information possible in an integrated framework which articulates impacts across the University."
The commission's report can be accessed here. It is the result of more than four months of intensive work by the fourteen-member group, which was chaired by Lisa Hollander, vice president
for development and alumni relations at DePauw. The commission conducted nine surveys, visited six benchmark colleges and universities, interviewed DePauw students and staff members, and collected existing descriptive data from a variety of sources.
As stated previously, now that the commission's findings are public, Dr. Bottoms will initiate conversations across the campus community. Opportunities for dialogue include: the Alumni Board meeting; three sessions planned -- separately -- for DePauw students, faculty, and staff; and an October 18 invitation for members of Greek house corporations, chapter advisers and national organizations to discuss the report and the issues it raises (see complete schedule here). In addition, Hollander will participate in a live webcast Monday, October 9 at 7 p.m. (Greencastle time; 6 p.m. in Chicago; 5 p.m. in Denver; 4 p.m. in San Francisco) in which she will discuss her commission's work
and take questions from alumni and students. Queries may be submitted in advance or as the program is taking place at communityconversations@depauw.edu.
Based upon the dialogue of the next few weeks, President Bottoms plans to continue the discussion of the commission's findings with the Board of Trustees at their October 2006 meeting. Board Chair James B. Stewart '73 will then appoint a committee of Trustees to examine the commission's report. The issue will be discussed further at the board's January 2007 retreat.
The Greek Fact-Finding Commission included students Christopher Ball '07, Janelle Beckford '07, Emmalynn Brown '07, and Melyna Hernandez '07; alumni members Zachary Adams '06, Julie Goodrich '73, Daniel Hasler '80, and Michael Treffehn '06; and faculty members David Newman, professor of sociology and Jackie Roberts, associate professor of chemistry and biochemistry. Three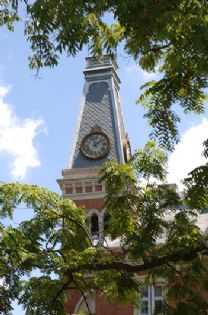 administrators also served on the panel: Cindy Babington, assistant to the vice president for student services and dean of students; James Lincoln, vice president for student services; and Stefanie Niles, dean of admission.
"I want to commend Lisa Hollander and her commission for their thorough and wide-ranging analysis," says Dr. Bottoms. "They were called upon to do a large amount of information gathering in a rather short period of time, and I believe the resulting document will lead to some invigorating dialogue across the DePauw community about how we move forward. I encourage alumni, students, and parents to be part of this process and am appreciative of the many voices who have made themselves heard through this process so far."
"Members of the commission dedicated their summer to this important and massive task, often putting aside other obligations in their lives so that this work could be completed by the fall deadline," Hollander states. "I thank them for their extremely good work."
You can log in to the October 9 webcast as it takes place live by clicking here. The program will be archived here.
Back