"Vision and Steadfast Leadership" of President Bottoms Lauded on 20th Anniversary of His Inauguration
October 17, 2006

[Download Audio: "Hear Dr. Bottoms' 1986 Inaugural Address" - 2518kb]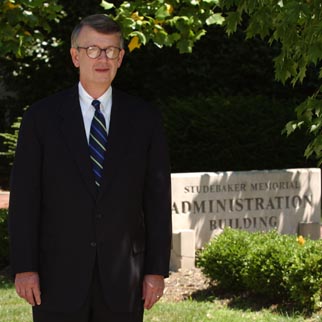 October 17, 2006, Greencastle, Ind. - The historic tenure of Robert G. Bottoms, the longest-serving president in the 170-year history of DePauw University, reaches a new milestone today. On this date twenty years ago, Dr. Bottoms was inaugurated as DePauw's eighteenth president in ceremonies at the Performing Arts Center's Kresge Auditorium.
As he formally accepted the presidency (which he had assumed July 1, 1986), Bottoms vowed to focus on increasing the diversity in the people and curriculum at DePauw, emphasizing science education, and providing moral leadership and reflection for students in a world where moral direction is lacking.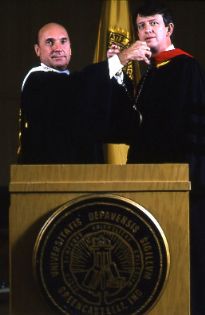 "It would be hard to overstate what Bob Bottoms has contributed to DePauw over the past 20 years," says David L. Warren, president, National Association of Independent Colleges and Universities (NAICU). "Through his vision and steadfast leadership, the University has grown in stature nationally, especially in the three key areas that have been the focus of his presidency: increased diversity, a strengthening of the sciences, and a heightened commitment to the ethical underpinnings of DePauw."
Warren adds, "Beyond the University's campus, his contributions to higher education have extended nationally, through his service to associations and foundations, including his present role as a member of the Posse Foundation board. Bob's long and illustrious career has been marked by a passion for higher education as a whole, but most of all, for the University he has so profoundly helped to shape. Perhaps most importantly, he is a great good colleague and friend."
"Twenty years is an extraordinary tenure for a college presidency," declares Hans Giesecke, president of Independent Colleges of Indiana (ICI). "To see all of the amazing progress that DePauw University has made under Bob Bottoms' leadership during this time span is even more extraordinary. DePauw has clearly reached a place of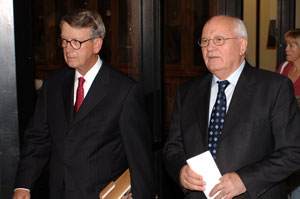 preeminence among liberal arts universities in the USA and this is due in no small measure to Dr. Bottoms' continuing emphasis on quality in every aspect of the University's development."
Indiana Governor Mitch Daniels says, "DePauw was blessed the day Bob Bottoms agreed to become its president. How incredibly fortunate the school has been, therefore, to have him at its helm for two decades. Every Hoosier community has -- in one way or another -- shared in that good fortune, and they join the DePauw community in thanking Bob and hoping that he will extend his remarkable tenure for many years to come."
"Dr. Bottoms is a man with vision for a society less divided, an American community less blinded by bias," states Deborah Bial, president and founder of the Posse Foundation. Since
1996 DePauw has partnered with Posse, a youth leadership development and college access organization which sends highly qualified students from diverse backgrounds to selective colleges and universities throughout the country. President Bottoms was named a "Posse Star" in 2004.
"He has worked both openly and in very subtle ways to build a more enlightened population of young people," Bial continues. "Because of him, thousands of young people -- and hundreds of Posse Scholars -- have had their lives changed for the better, forever. What many don't see is the heart Bob puts into his every decision and the conviction he leads with both at DePauw and beyond. We are lucky to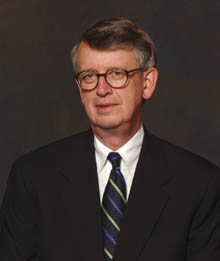 have him in our Posse circle," Bial adds.
A native of Birmingham, Alabama, Dr. Bottoms earned his bachelors degree at Birmingham-Southern College, a bachelor of divinity degree at Emory University, and his doctorate at Vanderbilt University.
His career in higher education began when he was appointed chaplain and assistant to the president at Birmingham-Southern College. He later moved to the Vanderbilt Divinity School as assistant dean and assistant professor of church and ministry. In 1978, DePauw University selected Dr. Bottoms as its vice president for University Relations; he subsequently advanced to executive vice president of the University before being named president in 1986.
While diversification efforts are ongoing, DePauw's curriculum, faculty, staff, and student body are more geographically, socioeconomically, and racially diverse than at any time in the school's history. In 1986, 3.5% of DePauw's students were from diverse cultural backgrounds; today it's 16.4%.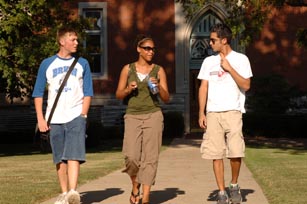 The number of minority faculty members, fewer than a half dozen when Bottoms took office, stands at 36 presently. The president recently announced an initiative to increase the number of students from other countries who study at the University. In 1986, DePauw had 12 international students; the 2006-07 student body has a record 67 students from 32 foreign countries.
Through Dr. Bottoms' leadership, DePauw has also made momentous advances in the sciences, including unique research/study opportunities provided by the University's recently-established Nature Park. Located on the site of an abandoned quarry, the 520-acre DePauw University Nature Park has opened new academic horizons for faculty and students in the fields of biology, geology, and geography, among others. The facility
also offers opportunities for reflection and recreation for members of the University and neighboring communities.
Bottoms also spearheaded the efforts that led to the construction of the F.W. Olin Biological Sciences Building, designed for undergraduate research in anatomy and physiology, animal biology, botany, genetics, environmental sciences and microbiology. The Percy L. Julian Science and Mathematics Center has undergone dramatic structural and academic changes during Dr. Bottoms' tenure. Named for the DePauw alumnus known as "America's greatest black chemist" (who will be featured in two-hour NOVA documentary in February), the vastly renovated and expanded building houses classrooms,
laboratories and offices of chemistry, physics and astronomy, geology and geography, mathematics and computer science departments. It is also home to Information Services and the 361° Center.
To support efforts on behalf of moral reflection, the University announced in September 2005 the formation of the Janet Prindle Institute for Ethics. The Institute, which is currently under construction in the DePauw Nature Park, will help faculty and students integrate the study of ethical issues across the curriculum, focusing greater attention on the role ethics play in every individual's personal and professional life. The culmination of the president's lifelong studies of personal and public ethics, the Prindle Institute will also serve as a resource for the national academic community.
In April 2006, President Robert G. Bottoms outlined his new, five-year strategic plan for the University, "Securing Our Legacy." It calls upon the University community to enhance DePauw's diverse learning and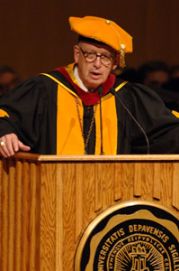 living environment to encourage academic excellence and greater student engagement in the learning process, as well as support learning through the innovative use of instructional technologies and digital resources that have led to recognition as one of the nation's most wired campuses. Renovation currently under way on the new Judson and Joyce Green Center for the Performing Arts will provide new facilities for vibrant programs in the School of Music and theatre.
Throughout its curriculum DePauw is focusing on global perspectives and ethics as critical underpinnings of the preparation it offers undergraduates. The Janet Prindle Institute for Ethics, currently under construction, will support research and instruction across the curriculum. And DePauw continues to seek innovative ways to involve graduates in the life of the University, through programs in their communities and exciting intellectual discussions on campus.
President Bottoms has led two highly successful fund-raising endeavors, the most recent being the Campaign for DePauw: Leadership for a New Century, which culminated in April 2000 with gifts and commitments in excess of $374 million. This achievement was recognized by the Council for Advancement and Support of Education when Dr.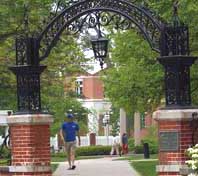 Bottoms was named in 2000 a recipient of the CASE V Chief Executive Leadership Award. In September 2002, the Chronicle of Higher Education cited Dr. Bottoms as one of America's long-term college presidents who have had both staying power and success.
When the president assumed office, DePauw's endowment totaled $95.9 million. In the twenty years since, it has grown 412% to $490.5 million. As a result, DePauw has hired additional faculty, constructed new state-of-the-art buildings, renovated existing structures, and gained recognition as a leading national liberal arts college.
In addition to his position on the Posse Foundation board, Robert Bottoms also currently serves on the boards of the Seabury-Western Theological Seminary in Chicago, the Joyce Foundation in Chicago, and the Center for Leadership Development in Indianapolis. In addition,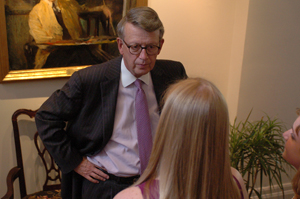 Dr. Bottoms has been a consultant to the Lilly Endowment, the Arthur Vining Davis Foundations and the Fund for Theological Education. The president has written articles and opinion pieces for the New York Times, Indianapolis Star and Chicago Tribune, and appeared on NBC's Today.
A 1986 story on the inauguration of DePauw's eighteenth president -- including video clips and audio of Dr. Bottoms' complete inaugural address -- can be found by clicking here. A vintage video clip from Indianapolis ABC affiliate WRTV can be accessed here.
Dr. Bottoms' anniversary was also briefly noted in the October 9 edition of the Indianapolis Star.
Back