Two Sophomore Entrepreneurs Appear on Statewide TV Program
October 8, 2006
October 8, 2006, Greencastle, Ind. -

[Download Video: "Student Entrepreneurs on Statewide TV Program" - 1214kb] "As the price of college textbooks continues to rise, two DePauw University students -- entrepreneurs -- are trying to combat those prices with a new business venture," Inside Indiana Business anchor Gerry Dick told his statewide television audience this weekend. Ryan Tinker and Zach Koch started BookSnag.com this year out of a need for a forum that allows students to buy and sell their used textbooks to one another without a middleman," added Dick as he introduced the two DePauw sophomores. The program was seen in every Indiana media market this weekend.

[Download Video: "Zach Koch" - 611kb] "Basically, BookSnag is a Web site and a company that allows students, right now at DePauw University, to buy and sell their used textbooks directly to one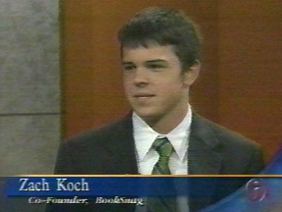 another, as you said, like to eliminate that 50% middleman," Koch said on the show.
Tinker says he managed to reduce the cost of his textbooks this fall by two-thirds, and the service he and Koch founded is profitable and helping a number of DePauw students.

[Download Video: "Ryan Tinker" - 751kb] "This semester, in August, we had 376 people sign up. They posted 1,307 books, and of those... 176 were 'snagged,' meaning they were exchanged. With this, we estimated that people saved ... at DePauw ... about $5,190."
Gerry Dick noted that Tinker is a Management Fellow while Koch is majoring in religious studies, and asked the two entrepreneurs what starting a company is like.

[Download Video: "Stretching the Creative Bone" - 926kb] "It's been a really fun process," Koch told the business program. "It's challenging, because it's like you have to address all the problems -- what's the best way to do something --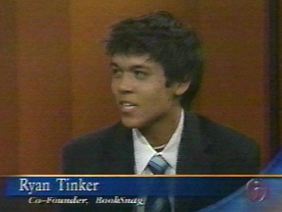 and it really stretches your creative bone, too."
The students say they plan to expand BookSnag to other college campuses.
Also appearing on this week's program was Ron Stiver, a 1996 graduate of DePauw who is currently Indiana's commissioner of the Department of Workforce Development, and next week becomes the new commissioner of the Bureau of Motor Vehicles.
You can access the complete video segments of this week's edition of Inside Indiana Business by clicking here.
Source: Inside Indiana Business
Back