"Focused" Ron Stiver '96 Takes Reins of Indiana Bureau of Motor Vehicles
October 24, 2006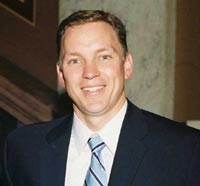 October 24, 2006, Greencastle, Ind. - "I'm trying to get my arms around this," Ron Stiver, the new commissioner of the Indiana Bureau of Motor Vehicles and 1996 graduate of DePauw University, tells the Fort Wayne Journal Gazette. Stiver took over as BMV chief Monday, and says he'll take his time before announcing any changes "because I want us to have a thoughtful approach."
Niki Kelly writes, "Stiver, 32, comes from the Department of Workforce Development, where he has served as commissioner since Gov. Mitch Daniels took office in January 2005. Before that he worked for pharmaceutical giant Eli Lilly and Co. in various positions from finance and business development to sales and marketing. The Indianapolis native received an undergraduate degree from DePauw University -- where he played center for the football team. Then he earned a master's in business administration from Duke University, where he met his wife of three years."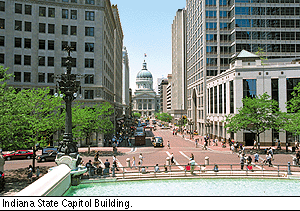 The BMV has been under fire in recent months after the previous commissioner closed some branches, and the agency had glitches with conversion to a new computer system. Stiver says he's committed to improved timeliness and customer service. "We won't shy away from making the decisions that will make us the best," he tells the newspaper. "We'll have extremely high expectations for ourselves. We'll measure ourselves and hold ourselves accountable. We'll be focused... We want to be the best at what we do and not take our foot off the pedal until we are there."
Read the complete story by clicking here.
Back