Tigers' second-half rally not enough in 23-20 Monon loss
November 11, 2006
November 11, 2006, Crawfordsville, Ind. - DePauw rallied from a 14-0 halftime deficit with a pair of third quarter scores, but host Wabash answered and then held on for a 23-20 Monon Bell victory. DePauw finished its season at 6-4, while the Little Giants wrapped up an 8-2 campaign.
The teams opened the game by exchanging a pair of punts before Wabash took a 6-0 lead on the second play of the second quarter on Shane Keffer's 2-yard run with 14:53 left in the half and Chad Finley's point-after was off the mark.
DePauw punted on all four of its first half possessions and Wabash took over on its own 30 on the final series of the half. Little Giants' quarterback Dustin Huff completed 7-of-9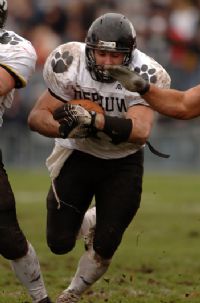 passes with the final one covering nine yards to Tim Schirack which made it 12-0 with 22 seconds left in the half. Huff made it 14-0 when he scored on the two-point conversion. A key play in the drive came with just under a minute to play when Huff converted on fourth-and-three with an 8-yard pass to Mike Russell.
Before the Little Giants even had a chance to run an offensive play, the Tigers knotted the score at 14-14. DePauw started its first drive of the second half on its own 36. After back-to-back procedure penalites and an incomplete pass, the Tigers were faced with third and 16 from the Wabash 44.
Tiger quarterback Spud Dick completed an 18-yard pass to Chris Gines and a face mask penalty at the end of the play put the ball on the 21. Running back Jeremiah Marks carried for 16 yards and then five on the next play for the score that cut the lead in half after Tyler Mallory's extra point with 10:46 left in the third.
On the ensuing kickoff, Alex Fitch forced Wabash returner Billy King into a fumble and DePauw's Colin Batko recovered at the Wabash 25. Marks carried the ball six straight times to the Wabash 1 and, after Dick's plunge was stopped for no gain, Marks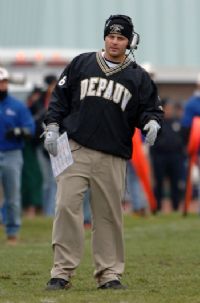 added his second score of the game with 7:09 remaining in the third. Mallory's PAT tied the score at 14-14.
The Little Giants responded, however, with a drive that started on their own 14. Wabash converted four third down situtations before Huff completed a 10-yard scoring pass to Russell with 55 seconds left in the quarter.
DePauw's first turnover of the game came on the first play of the next drive when Andy Deig picked off Dick's pass at the DePauw 45. Wabash drove to the DePauw 15, but a 10-yard sack by Michael McNelis on third down and an incomplete pass on fourth down put the ball back in the Tigers' possession.
The teams each exchanged two punts before Finley pinned the Tigers at their own 8 after a 32-yard boot. On the first play from scrimmage, Frank Knez sacked Dick just beyond the goal line for a safety with 4:58 remaining.
After a defensive stand, DePauw regained possession on its own 21 with 2:21 remaining and Dick completed a 9-yard pass to Marks on first down, but was intercepted by Adrian Pynenberg at the DePauw 39.
Wabash seemed poised to put the game away, but Rob Farrow picked off Huff at the DePauw 12 and returned it to the 23 with just 32 seconds left. Dick then completed passes to Bryan Mulligan for 42 and 31 yards before tossing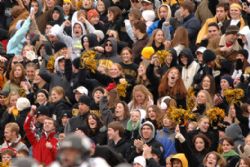 a 4-yard scoring strike to David Araiza with six seconds left. The extra point hit the upright and the Tigers were unable to recover the onside kick.
"As disappointed as I was with our play in the first half, I thought we fought extremely hard in the second half," DePauw head coach Matt Walker said.
"I'm especially proud of our seniors who have been through quite a bit in their four years and still finished with a 26-13 record."
Wabash outgained the Tigers 317-250 including 172-70 in the first half. DePauw totaled 73 rushing yards with Marks leading the way with 94. DePauw held Wabash to just 13 rushing yards on 24 attempts.
Dick completed 17 of 25 passes for a career-high 177 yards with Gines hauling in a career-best six for 47 yards and Mulligan adding four for 89 yards.
Huff completed 30 of 49 passes for 304 yards with Russell catching nine for 90 yards and Keffer and Ray Green each adding seven receptions.
D
ustin Hertel led the DePauw defense with 14 tackles including four for losses of 18 yards. Two of those were sacks totaling 13 yards as he finished the season with 16 sacks and two more than the single-season school record of 14 by Doug Lowery in 1989.
Hertel also batted down three passes, forced a fumble and added a quarterback hurry. He finished his career with a school-record 37 sacks. Eric Lewis added nine tackles in the defeat. Deig paced Wabash with 11 tackles, while Pynenberg finished with 10.
Marks finished the season with a school-record 1,117 rushing yards and moved to within 21 yards of the DePauw career rushing record of 2,941 yards held by Bart Simpson (1971-74). He moved into a tie for second place on DePauw's all-time scoring list with Johnathon Stigall (1995-98) with 246 points and just two off of Dan Ryan's (1999-02) career mark of 248.
Wabash extended its lead in the series to 53-51-9 and trimmed DePauw's advantage in Monon Bell games to 35-34-6. The 114th meeting and 76th for possession of the Monon Bell is scheduled for Saturday, November 10, at DePauw's Blackstock Stadium.
Back