Tim Collins '78 and Ripplewood Holdings Acquire "Rich Heritage" of Reader's Digest
November 16, 2006

November 16, 2006, Greencastle, Ind. - "We are very excited to reach this agreement to acquire Reader's Digest, a truly wonderful company with a broad array of global assets and growth businesses that are extending a rich heritage," says Timothy C. Collins, CEO of Ripplewood Holdings LLC and a 1978 graduate of DePauw University. This morning, Ripplewood -- a leading private equity firm established by Collins in 1995 -- announced that it will acquire the Reader's Digest Association, Inc. for about $1.61 billion in cash. Including the assumption of debt, the deal is valued at $2.4 billion.
"Together with our portfolio companies, Direct Holdings and WRC Media, Reader's Digest will enjoy the benefits of a diversified, multi-channel publishing platform," Collins adds.
Under the terms of the merger agreement, Reader's Digest's shareholders will receive $17.00 per share in cash for each common share of Reader's Digest they hold, representing a premium of approximately 23% over Reader's Digest's average closing share price during the 45 trading days ended November 15, 2006. The board of directors of Reader's Digest has approved the merger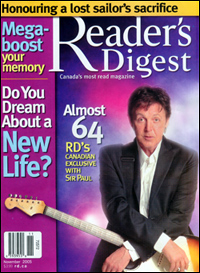 agreement and recommended that Reader's Digest's stockholders adopt the agreement.
The Association's flagship magazine, Reader's Digest, is published in 50 editions and 21 languages with a monthly circulation of approximately 18 million and a global readership of approximately 80 million. The company reaches millions of consumers through more than 20 other magazines and online portals, including Every Day with Rachael Ray, Allrecipes.com, and Taste of Home, America's best-selling food and cooking magazine. Reader's Digest's products are organized around four key affinities: food, home and garden, health, and English as a second language. For the fiscal year ending June 30, 2006, the company generated revenue of approximately $2.4 billion.
Read more at CBS News.com and Trading Markets.com.
Tim Collins received an honorary doctorate from DePauw on May 22, 2005. Video of the presentation is embedded below.
Back