Acclaimed Shylock, Which Examines Stereotypes, Presented Monday at DePauw
November 23, 2006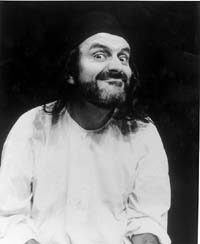 November 23, 2006, Greencastle, Ind. - Welsh actor and director Gareth Armstrong, a former member of the Royal Shakespeare Company, will bring his critically acclaimed monologue Shylock to the campus of DePauw University next Monday, November 27. The special one-night-only performance begins at 7:30 p.m. in the Performing Arts Center's Moore Theatre and is free and open to all. The play is presented with the support of the Gilbert S. Lance Fund.
The character Shylock, a Jewish money lender, appears in Shakespeare's The Merchant of Venice in which he makes vengeful demands for a "pound of flesh." This award-winning play confronts the stereotypes in The Merchant of Venice through the eyes of Shylock's only friend Tubal, the only other Jewish man in all of Shakespeare. Armstrong's presentation examines the persistence and effects of anti-Semitism in society.
Since its 1998 debut, Shylock has drawn enthusiastic praise. "Armstrong is nothing short of incredible," opined the UK's Independent. "He presents Shylock's bitterness as a product of persecution, conveyed here with innovation, delight and energy."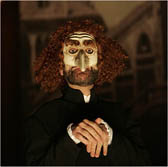 Another review in the Scotsman declares the play "reflects the deepest love and understanding of Shakespeare's genius" and "mixes us adeptly into the problems, pressures, traditions, censors, prejudices and passions of Elizabethan theater." The New York Observer adds, "Gareth Armstrong's virtuoso performanc... is a marvelous exploration of the universally despised Jew."
A former member of the Royal Shakespeare Company, Gareth Armstrong has performed the Bard's works in more than thirty countries. A founding member of the Made in Wales State Company, Armstrong has directed productions throughout the United Kingdom and has helped bring Shakespeare to the United States as associate director of ACTER, A Center for Theatre, Education & Research based at the University of North Carolina, Chapel Hill.
Back