DePauw Experience "Seminal" for "Rare Artist" Bing Davis '59
December 4, 2006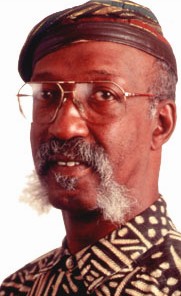 December 4, 2006, Greencastle, Ind. - "Every once in a while, you'll find an artist who's equally good at pottery and sculpture, or painting and photography, or installation art and assemblage," says M.J. Albacete, director of Ohio's Canton Museum of Art. "Rarely, however, do you find one who excels at all of these. Bing Davis is one of those rare artists. Whatever he turns his hand to is magnificent work."
The work of Davis, a 1959 graduate of DePauw University, will be featured at the museum through January 14 in an exhibition, "On the Shoulders of Ancestors: The Art of Willis 'Bing' Davis." The Canton Beacon Journal's Dorothy Shinn opines, "Visitors to the Canton Museum of Art will be blown away by his show... The amazingly versatile Davis works in ceramics, sculpture, drawing and painting, installation art and assemblage -- not to mention photography -- and his finely honed aesthetic is apparent in every piece on view."
The newspaper's art and architecture critic notes, "Davis, born in 1937 in Greer, S.C.,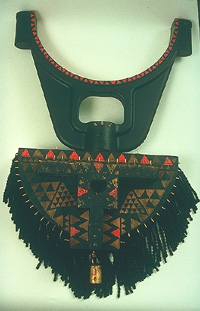 was raised in Dayton, earned his bachelor of arts from DePauw University in Indiana in 1959 and his master of education degree from Miami University in Oxford. The DePauw experience became seminal for Davis, who is black, as was his childhood in Dayton, and he often cites the experiences and large network of support he enjoyed in both locations. But it's the vital importance of strong personal identity, community support and the continuity of culture that Davis touts over and again, and these touchstones come through clear as a bell in his work." (at right: Anti Police Brutality Mask #2, 1999; mixed media, found objects)
The recipient of a number of awards, including Ohio Art Educator of the Year, Davis' work has been displayed around the world and "can be found in the collections of Oprah Winfrey, Bill and Camille Cosby, former President George Bush and wife Barbara, and Sen. Elizabeth Dole," Shinn notes.
Bing Davis taught at DePauw and Central State University and is known as much for his educational and community outreach efforts as he is for his art. "Davis has worked tirelessly to strengthen
these connections and to enable communities to make art an integral part of people's lives when and wherever he can," Shinn reports. "His eagerness to share his insights and gifts with others has influenced thousands of educators, artists and art professionals. While his show is in Canton, Davis will work with art classes in several Canton-area public schools." (at left: Bing Davis and his wife Audrey with Laura Bush)
Read the complete article at the Beacon Journal's Web site.
"On the Shoulders of Ancestors" was featured at the Indianapolis Museum of Art earlier this year.  Learn more in this previous story.
Back