Tim Tindall '89 One of Rochester, NY's 'Forty Under 40'
December 6, 2006
December 6, 2006, Greencastle, Ind. - Timothy J. Tindall, a principal in Alesco Advisors LLC and 1989 graduate of DePauw University, is among the "Forty Under 40" for 2006 in New York's Rochester Business Journal. The 12th annual list notes Rochester's young business and professional leaders who have achieved professional success and made significant civic contributions to the Rochester region. Tindall was nominated by community members and selected by a committee of business leaders.
Tindall, who earned a B.A. degree in communication and history at DePauw, was recognized for his professional role in business development for Alesco Advisors, an investment management firm with more than $750 million under management, and his civic contributions as a board member for the Greater Rochester YMCA's Lewis Street Child Care Center, a volunteer tax preparer for the United Way of Rochester's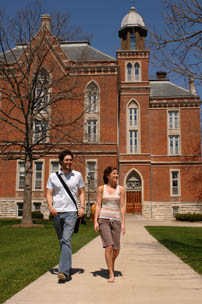 C.A.S.H. program and a church representative to the Greater Rochester Council of Churches.
An active community member, Tindall serves as vice chairman of the board of Christian education, Sunday School teacher and usher of the First Congregational Church in Fairport. He assisted with a church community development project that raised $10,000 in 40 days to equip a youth center at the Pines of Perinton, a low-income housing community. He also has volunteered as an alumni mentor at DePauw.
He hopes to continue being a role model for others in the future. Ten years from now, "I see myself as a dedicated husband and father, helping to raise my children to be thoughtful, caring and engaged members of society," Tindall says. "I will be an active member of our community, helping Rochester remain a great place to live and work. And contributing, in a significant way, to the growth and success of Alesco Advisors."
Tindall also holds a Master of Arts degree in broadcast journalism from Boston University.
Back