As CEO of Fresno Falcons, John Tull '86 is a "Nonstop Force"
January 29, 2007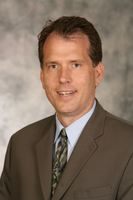 January 29, 2007, Greencastle, Ind. - "In John Tull's world, every minute counts," begins a story in California's Fresno Bee on the 1986 DePauw University graduate. "And so does every appearance, every phone call, every e-mail, every single contact. When you're pushing hockey in Fresno -- a city known for its fascination with other sports -- you can't waste any time. And Tull doesn't. He's chief executive officer of the Fresno Falcons, a job he returned to 11 months ago after a three-year absence. But he's also this: a nonstop force trying to mind meld hockey into the consciousness of local sports fans and others who spend recreational dollars."
Felicia Cousart Matlosz writes that Tull "seems to be everywhere. He jams his schedule with appointments, such as radio and television appearances, not to mention his work with charitable organizations to boost their fundraising and to give the Falcons a broader presence in the community. And even though Tull is the CEO, he's also the master of ceremonies for the 36 home games... With a loud voice that dips and soars like a circus ringmaster's, Tull keeps the action moving even before the hockey starts and during the intermissions. He's always
busy, whether it's prize giveaways, contests, car shows on the ice, spotlighting folks with red carpet treatment, cheering on the Zamboni driver or spurring the crowd to sing YMCA."
The article points out that "Tull was a tight end playing football in high school and at Division III DePauw University in Indiana. He earned a bachelor's degree in history, but he also was the guy selling special T-shirts and organizing bus trips. He worked an internship at Notre Dame, helping to promote different events, including hockey. He decided to pursue a master's degree in sports management at Indiana University in Bloomington. He learned the sports business literally from the field up."
John Tull's resume includes stints as general manager of minor league baseball's Peninsula Pilots, president
of Arena Football2's San Diego Riptide and president of the Motor City Mechanics of the United Hockey League. The Falcons play in the ECHL (formerly known as the East Coast Hockey League).
The lengthy article describes how ticket sales have increased on Tull's watch, and his colleagues describe his hard work and dedication. Matlosz notes, "Working with charitable groups has been a trademark for Tull and the organization since 2000. Totaling all those years, Tull estimates they will have raised nearly $750,000 by the end of this season. Kris Martin, market manager for the American Diabetes Association in the Central Valley, says Tull is a friend to all the nonprofits. She met him during his first turn with the Falcons, when she was with a different group. This fall, he was chairman for a walk for diabetes at Woodward Park. The
event raised about $55,000. 'It's his genuineness. That's what people respond to,' Martin says."
"I'm passionate about entertaining the fans," Tull tells the Bee. "We're going to entertain people from start to finish and, by the way, there's also a hockey game, too."
Access the complete text, as well as a series of photos of John Tull, at the newspaper's Web site. Learn more about him by clicking here.
Back