TV Show Featuring Brad Hauter '87 Now on Almost 350 Stations
January 31, 2007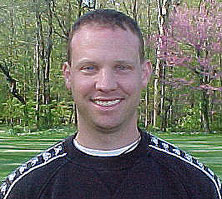 January 31, 2007, Greencastle, Ind. - Junk'd, a television program that features 1987 DePauw University graduate Brad Hauter, "is now syndicated on nearly 350 stations and reached 50 percent of U.S. households," notes a feature in the Terre Haute Tribune-Star. The newspaper profiles the colorful Hauter, who serves as head men's and women's soccer coach at Rose-Hulman Institute of Technology and who was ESPN's "Play of the Day" in 2003 when he rode a lawn mower more than 5,000 miles cross-country, raising funds for Keep America Beautiful.
"Imagine winning a home or backyard makeover by professional contractor, and then watching the work crew leave the project in a disastrous mess with no apologies and only a suggestion of someone to call to clean it all up," writes Mark Bennett. "That's the premise of the syndicated TV show Junk'd, starring Hauter -- a soccer coach with limited construction
skills -- and Bret Skipper -- a real-life landscape contractor. They take on a dream kitchen or patio job, Hauter messes it up, and then they shrug and tell the duped homeowner it's finished, and face his or her wrath. Finally, Hauter and Skipper let the homeowner in on the joke, and give the project a proper completion." (at right: Hauter and Skipper)
"It's a playful show," Hauter tells the newspaper, which describes him as a "cut-up sidekick."
The article points out that Hauter is not all fun and games, pointing to his "coaching at Rose-Hulman, where his Engineer men have a record of 43-31-3 in his six seasons, while his women's teams are 67-36-6. Hauter also has written a book called Counter Terrorism, a soccer coaching manual 'The Invisible Game' and several screenplays; founded the nonprofit organization 'Off the Streets' to help Chicago's homeless; played professional soccer; and drove a lawnmower from coast to coast in 1999 and 2003 to raise $200,000 for the Keep America Beautiful campaign."
Bennett continues, "Hauter said his adventurous spirit stems from his high school years. He discovered a quotation
from Martin Luther King insisting that our society should not be limited by the evil in the world. 'I read that and said, 'Well, I hope I can make some noise for the good,' Hauter recalled."
Hauter also discusses Counter Terrorism, the story of a squirrel that teaches a boy a better way to live. "I just wanted them to keep some perspective, that this world isn't about money or things. It's about family, friends and people you love."
Read the full story by clicking here.
Back