Phil Eskew '63 Will Again Spend Super Bowl Sunday Working the Sidelines
February 1, 2007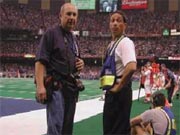 February 1, 2007, Greencastle, Ind. - "Most of the time, OB-GYN Philip Eskew Jr. is on the job at St. Vincent Hospital.  But one day a year, you'll find him on the sidelines at the Super Bowl," begins a report by Mary McDermott of Indianapolis CBS affiliate WISH-TV.  Eskew, a 1963 graduate of DePauw University, has assisted NFL Films with coverage of the Indianapolis Colts since 1984 and has been called upon to work the Super Bowl for more than a quarter century, which he will do again this Sunday.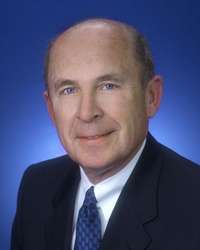 "This makes 28 Super Bowls, but this is the first time the Colts are going to be there, and this is really special," Dr. Eskew tells the station
Eskew coordinates credentials, stadium access and handles film, among other duties for NFL Films.  He also helps the camera operator spot interesting shots on the sidelines or involving fans in the stands.
"It's really unique to be on the sidelines because you hear the hits -- and these are big men, these are specimens," Eskew says in the report.  "You hear things that are said.  You have a chance to converse with players and coaches before the game.  You're really in an among them and you get a first-hand knowledge of what's happening."
Eskew, a member of the DePauw University Athletic Hall of Fame, also describes how he's been called upon "to handle a few medical emergencies" at NFL games over the years and how he is required to remain neutral during games.  'But in my heart, I want you to know that I am really pulling for the Colts," he

tells WISH.
Access a text story with photos here.  Click on the red camera icon to see the video clip that aired on the station in its entirety. 
Read a September 2006 Indianapolis Star story on Phil Eskew's NFL Films experiences, as well as his voluminous community service efforts, by clicking here.
Back