Prof. Mark Allan Jackson Publishes Prophet Singer: The Voice and Vision of Woody Guthrie
February 3, 2007

February 3, 2007, Greencastle, Ind. - Prophet Singer: The Voice and Vision of Woody Guthrie by Mark Allan Jackson, assistant professor of English at DePauw University, has just been published by the University Press of Mississippi. The book, part of the American Made Music Series, "examines the history and intent behind the song lyrics of (the) songwriter and political activist," notes an announcement from the publisher. It "offers an analysis of the creative impulse behind Guthrie's song lyrics as well as the prejudices expressed by the artist (and) is the first book to offer in-depth interpretation of Guthrie's lyrics as a social commentary within their historical and biographical contexts."
In the prologue, Dr. Jackson writes that Guthrie "recognized the power of song to capture a moment in time and pass it on to future generations. His songs remind us what the poll tax was, what Harriet Tubman fought for, and what tenant farmers yearned for."
The publisher states, "Jackson provides readers with an in-depth look at how Guthrie manipulated his lyrics to call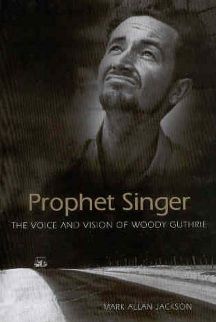 attention to the ways that common people could gain greater political and economic power. Utilizing an interdisciplinary methodology that incorporates the best of both historical and literary perspectives, Jackson references a staggering array of primary sources including interviews, records, drawings, and writings. He includes a variety of material from the Smithsonian Institute, the Library of Congress, and the Woody Guthrie Archives, many of which have never been presented to scholars or the general public. The result: a broad perspective of one of America's most intriguing cultural figures."
Read more by clicking here.
Last year, Professor Jackson compiled Coal Digging Blues: Songs of West Virginia Miners for the West Virginia University Press Sound Archive series. Details can be found in this previous story.
Back