Sugar Johnson (Ugarhon Serrette) '97 Talks with Prince Charles at Harlem School
February 2, 2007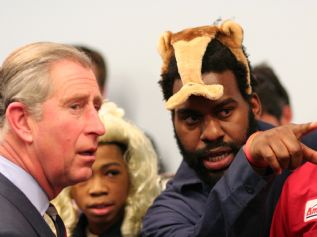 February 2, 2007, Greencastle, Ind. - Sugar Johnson, a New York-based actor and educator (known to his DePauw friends as Ugarhon Serrette, a 1997 graduate of the University), interacted with Prince Charles and his wife, Camilla, the Duchess of Cornwall, last weekend. The royal couple enjoyed a student rehearsal of Shakespeare's A Midsummer Night's Dream at Children's Zone Promise Academy in Harlem, which Johnson directed. The DePauw graduate also coordinated a math carnival which Prince Charles attended.
"Prince Charles is a conscientious gentleman with a grand sense of humor," Johnson reports. "During our candid exchange, it was clear the prince shared my deep love for education, art, and culture."
Of the school visit, which took place Sunday, January 28, FOX News.com reports,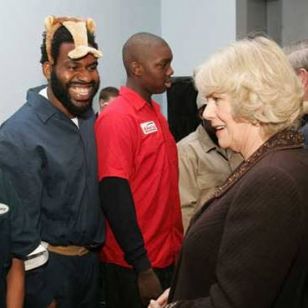 "The Prince of Wales and the Duchess of Cornwall arrived in New York from Philadelphia by a private train and visited the [charter school, where]... they visited an after-school program that teaches middle school students about finances... Charles and Camilla also watched a rehearsal for a Shakespeare play and a basketball practice... The royal couple are on a weekend visit to the United States that focuses on youth development, urban renewal and environmental stewardship."
A mathematics major at DePauw, Johnson appears in the one-man show What Had Happened Was in New York. Along with fellow DePauw alumnus Ed Garnes ('99), Johnson launched From Afros to Shelltoes, an organization that uses counseling and art as tools of empowerment.
Read more about Sugar Johnson and Ed Garnes in this previous story.
Back