Two Monday Events Feature Feminist Scholar and Editor of Ecuador's Intag
March 11, 2007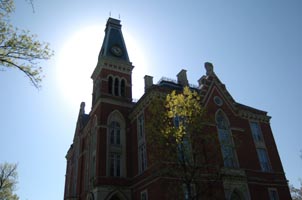 March 10, 2007, Greencastle, Ind. - DePauw University welcomes two distinguished visitors to campus on Monday, March 12, for a pair of speeches. Fatima Sadiqi, feminist scholar and president of the Centre for Studies and Research on Women, will speak at 4 p.m. in the Pulliam Center for Contemporary Media's Watson Forum on "Islam and the Women's Movement in Morocco." At 7 p.m. in the auditorium of the Richard E. Peeler Art Center, Mary Ellen Fieweger will discuss, "Community Journalism, Popular Education, and Fighting for the Future: The Story of Periodico Intag in Ecuador."
Both events are free and open to the public.
Fieweger is the founder and editor of Intag, a community newspaper in the Intag region, which is located in the cloud forests of the northern Ecuadorian Andean mountains. The publication is the first independent newspaper serving the region, and it is entirely run by local residents. She is well
known to many members of the DePauw community who have traveled to Ecuador. Glen David Kuecker, associate professor of history at DePauw, says Fieweger's "intelligence, compassion, and Ghandian integrity have taught me much about the meaning of social justice and the core of ethical living."
Fatima Sadiqi also serves as director of the graduate unit "gender studies," and professor of linguistics and gender studies in the Department of English at Fes University; this year, she is the visiting professor of women's studies and Islamic religious studies at Harvard Divinity School's Women's Studies in Religion Program. Among her honors, Dr. Sadiqi has been nominated by United Nations Secretary-General as one of the eight women members of the Committee for Development Policy, editor-in-chief of the journal Language and Linguistics, and author of four books.
Back