Prof. Emeritus Robert Eccles Passes Away
May 29, 2007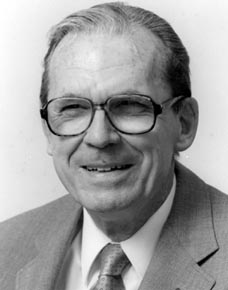 May 29, 2007, Greencastle, Ind. - Robert S. Eccles, professor emeritus of philosophy and religion, passed away yesterday at Asbury Towers in Greencastle. Professor Eccles, who taught at DePauw University for a quarter century, was 95 years old.
Dr. Eccles was born November 12, 1911 in Tacoma, Washington. He came to DePauw in 1953, initially teaching courses in Biblical studies. He became Martin V. Beiger Professor of English Bible and served as chair of the department of philosophy and religion at DePauw from 1974 to 1977, when he retired.
Eccles earned his bachelors degree from the University of Puget Sound in 1934, and went on to receive an M.A. from Northwestern University in speech and drama (1943), a B.D. from Garrett Evangelical Theological Seminary (1944), and a Ph.D. in New Testament from Yale University (1952).
He served as a high school teacher in Waterville, Washington
(1935-36) and Olympia, Washington (1936-42); was an instructor in philosophy and religion at American University in Washington, D.C. (1948-49); and served as an assistant professor of New Testament at Indiana University - Bloomington (1949-53) before coming to DePauw.
Bob Eccles was an ordained minister of the United Methodist Church, and member of the American Academy of Religion and the Society of Biblical Literature. From 1954-68, he taught each summer in the Jurisdictional School for Supply Pastors at the Garrett-Evangelical Theological Seminary, Evanston, Illinois. For many years, Eccles served as dean and taught Bible at the Indiana Area Local Pastors License School, which was held at DePauw. The professor authored the book, Erwin Ramsdell Goodenough: A Personal Pilgrimage (1985, Centennial Series of the Society of Biblical Literature).
Calling will take place from 11 a.m. to 1 p.m. this Saturday, June 2, at Gobin Memorial United Methodist Church, with the funeral to follow at 1 p.m.
Back