Chicago Sun-Times Cites Prof. Scott Spiegelberg
June 3, 2007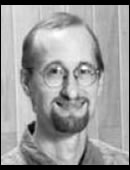 June 3, 2007, Greencastle, Ind. - "Chicagoans have cracked the annual list of the top 50 classical music blogs, as compiled by Scott Spiegelberg, assistant professor of music at DePauw University in Greencastle, Ind.," notes today's Chicago Sun-Times. The item in the "Classical News & Notes" column cites the three Windy City-related entries, and reports, "New Yorker magazine's Alex Ross landed at No. 1 with the 'Rest Is Noise.'" For the full list, go to musicalperceptions.blogspot.com.
Access the complete text at the newspaper's Web site.
Professor Spiegelberg coordinates the music theory

program at DePauw. He came to the University in 2002 and teaches courses on music theory, musicianship, the psychology of music, film music, and writing about music.
Read more about him here, and visit the DePauw University School of Music online by clicking here.
Source: Chicago Sun-Times
Back