Short Story by Maggie Neal Doherty '04 in First Whitefish Review
June 15, 2007
June 15, 2007, Greencastle, Ind. - A short story by Margaret "Maggie" Neal Doherty, a 2004 graduate of DePauw University, appears in the inaugural issue of Whitefish Review, which is being released today. Doherty's entry is titled, "How to Speak with an Island," and is a work of fiction.
Whitefish Review is a new literary journal based in Whitefish, Montana that publishes fiction, non-fiction, poetry, art, photography, and interviews, with a slant toward mountain culture.
Influenced by an island in the Upper Peninsula of Michigan, 'How to Speak with an Island' is the story of a young woman's experience with land, water, her family and her soon-to-be-ex-boyfriend. Written with humor, longing and love, the story examines how one woman searches for guidance, direction and solace in an island that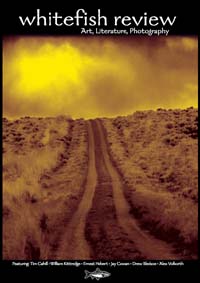 shaped and influenced her from birth.
Doherty reports that the short story was first conceived at DePauw during the Spring 2004 in Professor Lili Wright's non-fiction writing class.
Learn more about Whitefish Review here, and read more about the new publication in this newspaper story.
Doherty, who was an English writing major at DePauw, serves as program director of Big Creek Outdoor Education Center for the Glacier Institute in Montana. A private non-profit organization, the Institute has been providing hands-on, field-based educational adventures for people from all over the world since 1983. Visit the Glacier Institute by clicking here.
Back