Judson Green '74 and "Technology Success Story" NAVTEQ to Remain in Chicago
June 18, 2007

June 18, 2007, Greencastle, Ind. - "NAVTEQ is one of Chicago's biggest technology success stories in recent years, its sales climbing from $110 million in 2001 to $582 million last year," notes the Chicago Tribune of the company led by Judson Green '74. "It went public in August 2004, and as measured by market capitalization, NAVTEQ is the region's 42nd-largest publicly traded company."
The article details incentives being offered by the city of Chicago to keep NAVTEQ's headquarters, and some 900 jobs, from heading to the suburbs or another state.
"If we were to make the decision solely where are our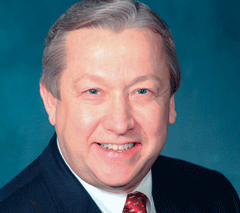 customers are, we would not be here [in Chicago]," Green, chief executive of NAVTEQ, said at a news conference with Chicago Mayor Richard Daley. The company, which currently employs 550 people, plans to add approximately 350 workers over the next five years.
Mike Hughlett writes, "A haven for geographers, NAVTEQ produces the digital maps found in car navigation systems and portable navigation devices made by Garmin and other firms. Its software also powers Internet map sites like Mapquest ... NAVTEQ was founded in Silicon Valley in 1985 but moved to the Chicago area in the 1990s while still a fledgling company. Today NAVTEQ has 2,800 employees worldwide and offices in 28 countries."
Read the complete story at the Tribune's Web site.
In October 2005, DePauw University announced that a $15 million dollar lead gift by Judson Green and his wife, Joyce Taglauer Green '75, will allow for a $29 million expansion and renovation of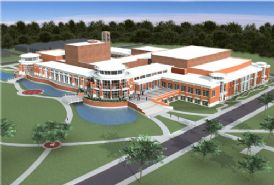 DePauw's 32-year-old Performing Arts Center (an architect's rendering is seen at left). The building, home to the School of Music and department of communication, will be known as the Judson and Joyce Green Center for the Performing Arts. Work on the first phase is nearing completion, and the building will be ready for use this fall.
Learn more about the project in this previous story.
You can see time lapse video of the construction project (updated regularly) by clicking here.
Back