DePauw Discourse 2007: Sustainability and Global Citizenship, October 4-6
August 1, 2007
Also: Robert F. Kennedy Jr. to Keynote Event
Also: DePauw Discourse Web Site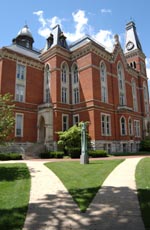 August 1, 2007, Greencastle, Ind. - A three-day forum this fall, "DePauw Discourse 2007: Sustainability and Global Citizenship," will provide members of the University community with opportunities to engage in thought-provoking discussion about pressing global environmental challenges. Set for October 4-6, DePauw Discourse lectures, which are presented by the Washington C. DePauw Society, are free and open to all.
The keynote address for DePauw Discourse, as previously announced, will be provided by Robert F. Kennedy Jr. Other sessions will feature the following individuals:
Bill McKibben, author of The End of Nature and Deep Economy
Cristina Mittermeier, photographer, writer, and executive director of the International League of Conservation Photographers
Wallace J. Nichols '89, Ocean Conservancy senior researcher, California Academy of Sciences research associate
Greg Watson, vice president for sustainable development and renewable energy, Massachusetts Technology Collaborative
Juliet Eilperin, environmental reporter for the Washington Post
Glenn T. Prickett, senior vice president for business and U.S. government relations, Conservation International
Andy Miller, director, Indiana Department of Agriculture
Kay Pashos '81, vice president for regulatory strategy at Duke Energy
DePauw University faculty members who will be participating are:
Jennifer Everett, assistant professor of philosophy and sustainability programs coordinator
Tim D. Cope, assistant professor of geosciences
Jeffrey M. McCall '76, John D. Hughes Professor of Communication and Theatre
Kerry Pannell, associate professor and chair of economics and management
Jay S. Hosler '89, Lee G. Hall Distinguished Visiting Professor of Biology
Michele Villinski, James W. Emison Director of the Robert C. McDermond Center for Management and Entrepreneurship, director of the Management Fellows Program, and associate professor of economics and management
"As we look forward to the fourth annual DePauw Discourse, this year's distinctive emphasis on sustainability and environmental challenges will provide a timely opportunity for the DePauw community to engage prominent leaders and thinkers regarding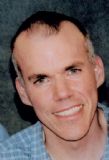 some of the world's most important issues." says Joyce Taglauer Green `75, chair of DePauw Discourse. "Our tradition of thought-provoking discourse continues to build and will actually include new forms this year as we screen a provocative documentary film and focus on high quality photography that tells a powerful story of conservation."
DePauw Discourse 2007 will begin October 4 at 4 p.m. with an opening lecture by Bill McKibben (pictured at right). McKibben's first book, The End of Nature is regarded as the first to address the issue of climate change to a general audience, and has been printed in more than 20 languages. His most recent book, Deep Economy: the Wealth of Communities and the Durable Future, advocates for new approaches to consumption in an age of global warming. He proposes "pursuing prosperity in a more local direction, with cities, suburbs, and regions producing more of their own food, generating more of their own energy, and even creating more of their own culture and
entertainment."
At 8 p.m. on October 4, The 11th Hour, the new environmental documentary produced and narrated by Leonardo DiCaprio, will be the focus of a special screening and discussion with Discourse participants Bill McKibben, Greg Watson, and Wallace J. Nichols '89, all three of whom are featured in the film. Professor Jennifer Everett will moderate the session. The documentary examines the state of the global environment, and includes visionary and practical solutions for restoring the planet's beleaguered ecosystems.
Tickets will be required at the screening.
Friday, October 5 Discourse conversations will feature DePauw alumnus and Ocean Conservancy senior researcher Wallace J. Nichols '89. A Fulbright Fellow, Nichols is the founder of Ocean Revolution, an international program designed to inspire and empower young people to protect our oceans. Nichols is also the author of more than fifty scientific papers, book chapters, popular articles, and reports on sea turtle ecology and ocean conservation. His sea turtle research has also been spotlighted on Animal Planet and PBS'
Nature.
An October 5 Discourse luncheon will feature Andy Miller, director of the Indiana Department of Agriculture, who will speak on "The Truth about Sustainable Agriculture" (reservations are required for lunch). Under Miller's leadership last year, Indiana saw $2.68 billion invested in food and agriculture projects in the state, bringing 2,518 jobs to Hoosiers. Miller has also worked to establish Indiana as a national leader in biofuels. Prior to his current role, Andy worked for Weaver Popcorn, ConAgra, Nabisco, and Procter & Gamble, in addition to creating Nature's Entree, a frozen food company in

Indianapolis.
Greg Watson and Kay Pashos will discuss alternative energy sources with DePauw assistant professor of economics and management, Michele Villinski. Watson is vice president for sustainable development and renewable technologies for the Massachusetts Technology Collaborative. Having

worked closely with the U.S. Department of Energy and General Electric, he is a leader of the Offshore Wind Collaborative.
Kay Pashos is vice president of regulatory strategy for Duke Energy, one of the largest electric power companies in the United States. Pashos has served as president of Duke Energy Indiana and is currently on the board of directors of the Indiana Energy Association.
Glenn Prickett, Conservation International senior vice president for business and U.S. government relations, will hold a discussion with Kerry Pannell, DePauw University associate professor of economics and management. They will explore what government and business can and should be doing to engage global environmental problems, including issues of climate change, biodiversity, water, and energy security. Prickett is the executive director of Conservation International's Center for Environmental Leadership in Business.
Cristina Mittermeier, executive director of the International League of Conservation Photographers, will discuss
her recent work with Conservation International that uses high quality imagery as an effective story-telling conservation tool. A marine biologist by training, Mittermeier turned to photography out of the need to communicate with a larger audience and to portray the link between people and their environment. In the last decade, she has co-edited eight books and her photos have been featured in major magazines throughout the world.
Friday evening will conclude with 8 p.m. remarks by Robert F.
Kennedy, Jr., entitled "A Contract With Our Future.: To read more about the environmentalist, attorney, and author, view this previous article.
For more information on "DePauw Discourse 2007: Sustainability and Global Citizenship," visit the event's official Web site or contact Steve Setchell '96, assistant to the vice president for development and alumni relations and director of the Annual Fund, at ssetchell@depauw.edu.
Established in 2004, DePauw Discourse is an annual symposium that brings some of the nation's leading thinkers and policymakers together with the University community. Previous participants have included: L. Paul Bremer, Lee Hamilton '52, Vernon Jordan '57 , Samantha Power, Roger Wilkins, Margaret Spellings, Bob Herbert, Allan Hubbard and Paul Volcker.
Back