Darci (Branch) Thomas '95 Promoted at August Mack Environmental
August 23, 2007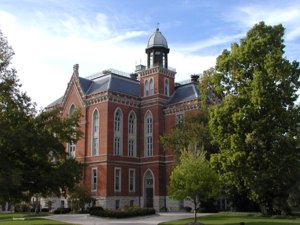 August 23, 2007, Greencastle, Ind. - Darci (Branch) Thomas, a 1995 graduate of DePauw University, has been promoted to senior technical manager at August Mack Environmental Inc., an Indianapolis-based environmental health and safety consulting firm. Thomas has been with the company since 2004.
An announcement notes Thomas' DePauw degree in geology, and states, "With over twelve years of experience, Thomas specializes in Phase I Environmental Site Assessments, due diligence investigations for property transactions, National Environmental Policy Act (NEPA) evaluations, underground storage tank removals and investigations, subsurface investigations, Indiana Excess Liability Trust Fund (ELTF) programs, wetland delineations, as well as asbestos inspections. In her new role as senior technical manager, Thomas will be responsible for providing technical and regulatory oversight on a variety of projects, quality assurance and control review of reports, and new business development and client services."
Read more by clicking here.
Back