National Dance Troupe of Nigeria Performs Monday
August 28, 2007
(UPDATE 8/31, 3 p.m.: Regretfully, Monday's performance has been canceled due to travel problems)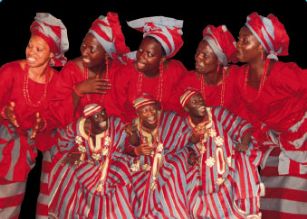 August 28, 2007, Greencastle, Ind. - The National Dance Troupe of Nigeria brings its collective talents to the campus of DePauw University next Monday, September 3, for a free performance. The program begins at 7:30 p.m. in Meharry Hall of historic East College, and is presented by DePauw's Performing Arts Series.
Composed of nearly thirty dancers, drummers and actors, the National Dance Troupe performs ritual dance theatre which embodies an ancestral past in which Nigerian deities,human spirits, animals, plants and elemental forces co-exist in dramatic and comedic traditional stories. The troupe's performances are full of loud, colorful spectacle, utilizing vibrant masks, costumes, drumming, song and chants to explore everyday and sacred beliefs in Nigerian culture.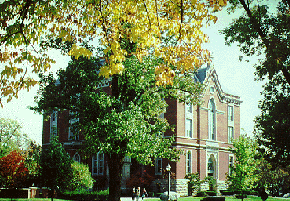 Under the direction of Dr. Ahmed Yerima, the National Dance Troupe of Nigeria, a division of the National Theatre of Nigeria, is on a brief but intensive goodwill tour of the U.S. which will include stops at numerous Midwestern universities and colleges and will conclude with performances in Texas and New York.
For more information about the September 3 performance at DePauw, call (765) 658-4689 or send an e-mail here.
Back