Leaders of 21 International Greek Organizations, Including Norval Stephens '51, Create Anti-Hazing Hotline
August 30, 2007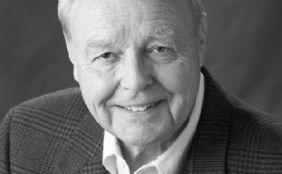 August 30, 2007, Greencastle, Ind. - "Our experience in the Greek world on hazing and alcohol abuse is that behavior is not changed by research. We believe educational programming and action change behavior," says Norval B. Stephens, chairman of the Delta Tau Delta Educational Foundation and 1951 graduate of DePauw University. Stephens is discussing the move by 21 international fraternities and sororities to establish a Greek Anti-Hazing Hotline. The toll-free number is 1-888-NOTHAZE (1-888-668-4293). The move is part of the ongoing attempt to end hazing on college campuses and particularly within Greek organizations.
"Research illuminates the problem but does not solve it," adds Stephens, former international president of Delta Tau Delta and a member of DePauw's Board of Trustees. "We hope the hotline helps to eliminate hazing."
Inside Indiana Business notes, "The line is available to those who think they, or students they know, have been or may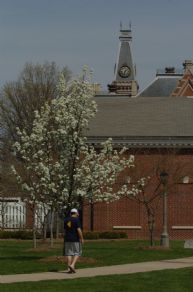 become victims of hazing. Callers may remain anonymous or provide personal information so their concerns can be responded to directly. The Anti-Hazing Hotline connects to a dedicated voice mailbox at the Cincinnati law firm of Manley Burke, the publisher of Fraternal Law, a well-known law journal that chronicles legal issues involving collegiate Greek organizations and higher education. Manley Burke will monitor the anti-hazing hotline on a daily basis and will forward all messages to the appropriate fraternal organization, along with the hazing laws from the relevant jurisdictions. In states in which the law requires notification of other authorities, this will be done. A hazing alert for an organization not involved as a sponsor will be handled as though that organization were a sponsor. A voluntary invoice will be sent to cover costs."
The 21 organizations collaborating on this effort represent in excess of 35% of all fraternity and sorority members, and are inviting other organizations to join the effort.
"Without exception, all national fraternities and sororities are serious about addressing hazing on the college campus,"adds Stephens. "Many fraternal groups not listed as sponsors already have their own hotlines dedicated to the fight against hazing.
We stand with them in our common goal to eliminate these behaviors."
Read more at Inside Indiana Business.com or at the University of Virginia's Cavalier Daily.
DePauw University has been involved in a lengthy analysis and review of its Greek system, which led to an April vote by the Board of Trustees to approve new housing standards for all living units at DePauw -- both Greek and University-owned -- among other steps which are detailed in this story. You may also visit the University's Greek Progress page for more information.
Back